Myanmar's Suu Kyi makes first visit to violence-hit Rakhine state amid ongoing Rohingya crisis
Myanmar State Counsellor Aung San Suu Kyi has been accused of "ethnic cleansing" by allowing the military to launch an offensive against the Rohingya Muslims.
Myanmar's leader Aung San Suu Kyi arrived in the country's restive Rakhine state on Thursday (2 November) on her first visit to the region following months of violence and mass exodus of Rohingya Muslims.
More than 500,000 Rohingyas, termed as ethnic minorities in the country, have fled to neighbouring Bangladesh and India after the Myanmar army launched a massive offensive, blaming armed Rohingya militants of triggering violence in the region.
"The State Counsellor is now in Sittwe and will go to Muangdaw and Buthiduang too. It will be a day trip," government spokesman Zaw Htay told AFP news agency, referring to Suu Kyi with her official title. Htay did not divulge any more details on the visit.
Nobel laureate Suu Kyi was accompanied by some 20 people, including state officials and military and police officers, during her visit to the border towns, Reuters reported.
Businessman Zaw Zaw, formerly sanctioned by the US Treasury, was also among the visiting delegation.
Suu Kyi has been accused by many human rights organisations for not taking a stand against the rising violence and military operation against the minority Muslim population in the country that began in October 2016.
The military action was dubbed as ethnic cleansing by the United Nations Human Rights organisation, and Suu Kyi was condemned for allowing it to happen in the country. However, her government defended the military offensive, saying that violence in the region was triggered by Rohingya militants of the Arakan Rohingya Salvation Army.
Rohingyas claim to be natives of Myanmar's northern Rakhine state, but the Buddhist-majority population in the country dispute their claims and allege that the Rohingyas are Bengali immigrants.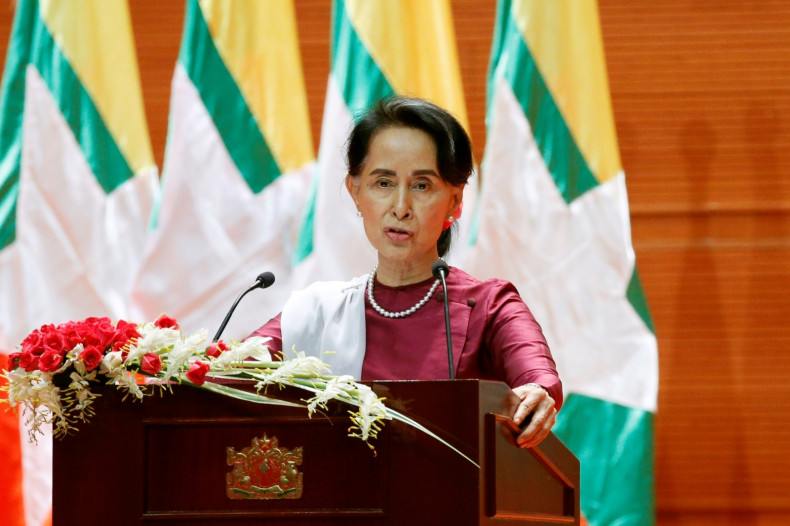 Recently, Suu Kyi announced that she would allow the return of Rohingyas to Rakhine only after they prove to be natives of the land. Myanmar is also in talks with Bangladesh over a repatriation process.
However, considering they have been denied citizenship in the country for long, the return process could prove to be difficult for the thousands of Rohingya Muslims living in refugee camps near the Myanmar-Bangladesh border.