Photos: Sudden surge of Rohingya Muslims fleeing violence and starvation in Myanmar
More Rohingya refugees have chosen to trek for days in monsoon weather to find sanctuary in one of the poorest regions of a poor country. What are they fleeing from?
Bangladesh is seeing a new surge in the numbers of Rohingya Muslims fleeing Myanmar. On Monday (9 October) Reuters reporters on the Bangladeshi side of the border, in Palong Khali district, saw several thousand people crossing from Myanmar's Rakhine State, walking along embankments between flooded fields and scrubby forest. Photographs show small boats endlessly travelling back and forth across the river Naf, ferrying new arrivals.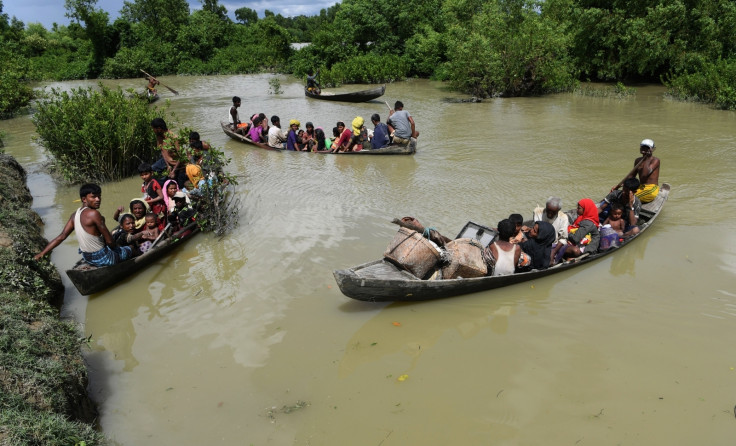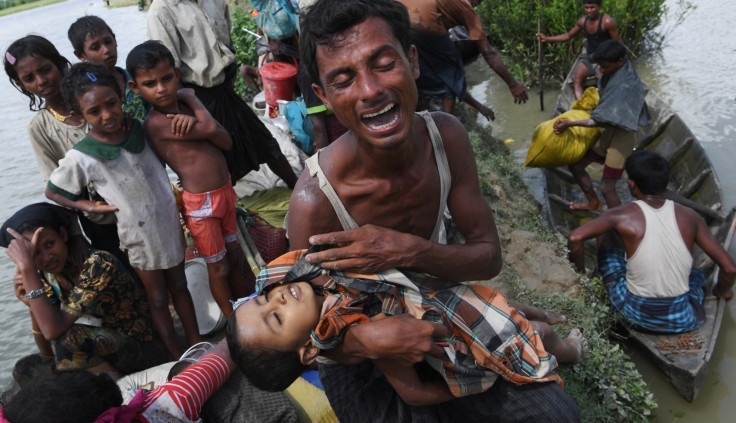 The Myanmar government had claimed its "clearance operations" against the militants ended in early September and people had no reason to flee. Indeed, the flow of refugees had recently slowed to a trickle.
This fresh surge is driven partly by fears of further violence, but it is also driven by starvation. Some villagers in Rakhine State said food was running out because rice in the fields was not ready for harvest and the state government had closed village markets and restricted the transport of food, apparently to cut supplies to the militants – or to drive the Rohingya out.
"The situation's getting worse. We have no food and no guarantee of security," said a Rohingya resident of Hsin Hnin Pyar village on the south of the state's Buthidaung district. He said a lot of people were preparing to flee. A new report by the Myanmar government backs this up, saying large numbers of Muslims are preparing to leave, with more than 17,000 people in one area alone.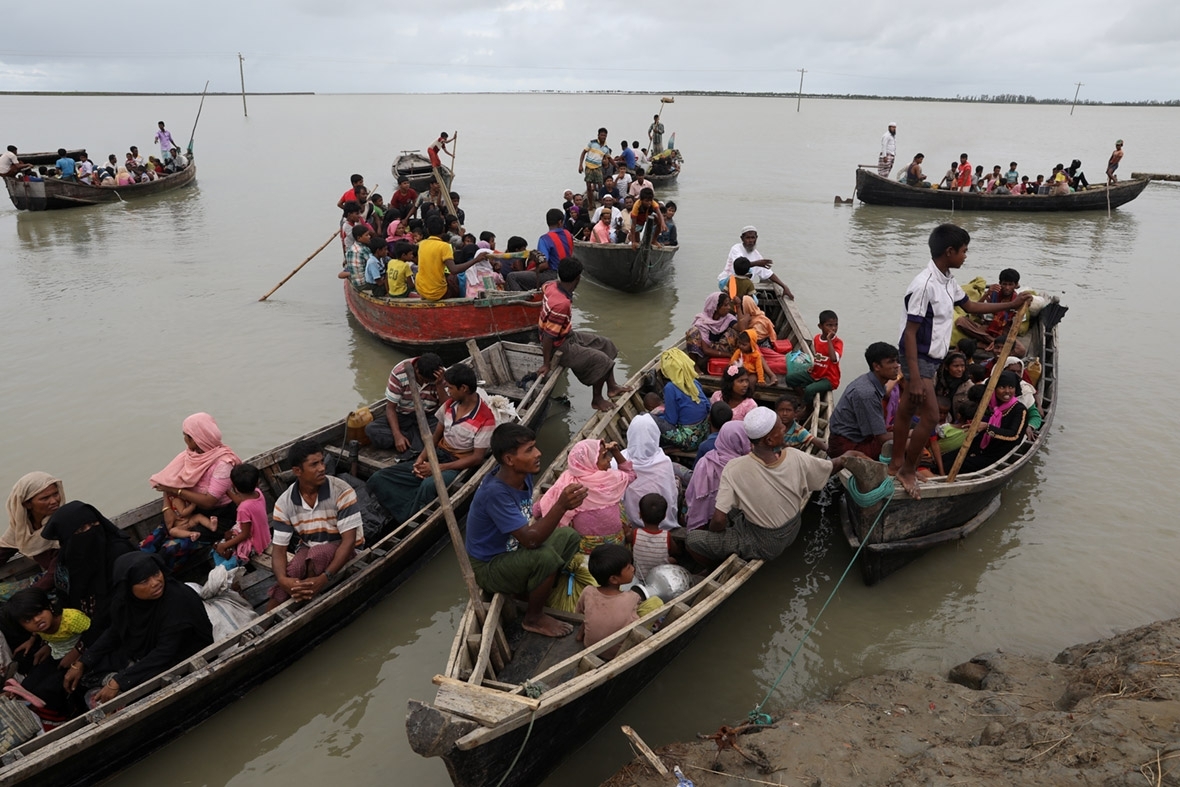 Even relatively peaceful parts of Myanmar's Rakhine state have begun enforcing a system of local apartheid that punishes people who do business with minority Muslims, fuelling fears that violence in the far northwest could spread to new areas.
Muslims say they are being cut off from essential supplies and accuse authorities of turning a blind eye. Aid workers fear thousands will attempt to escape via perilous sea routes to Thailand and Malaysia when the monsoon rains abate. Rough seas have recently claimed the lives of many people on the much safer crossing to Myanmar.
At least 12 Rohingya Muslim refugees, mainly children, drowned on Sunday (8 October) when their boats capsized near Shah Porir Dwip, on the southern tip of Bangladesh. It is not known how many people were on board but authorities have recovered the bodies of 10 children, one woman and a man. At least eight people have been rescued.
The overturned vessel is the latest of a series of deadly mishaps at sea involving Rohingya refugees. On 28 September a boat carrying about 80 refugees overturned; 17 survived, 23 were confirmed dead and the remainder declared missing. On 6 September, 46 bodies were recovered after another boat sank in the narrow stretch of water that separates Myanmar and Bangladesh. Among the dead were 19 children, 18 women and nine men.
Bangladesh and international humanitarian organisations are scrambling to provide life-saving food, water and medical care to the more than half a million traumatised people who have arrived since August – as well as the 300,000 refugees who had fled previous bouts of violence. Simply finding enough empty land to accommodate the refugees is a huge problem.
"The government allocated 2,000 acres when the number of refugees was nearly 400,000," Mohammad Shah Kamal, Bangladesh's secretary of disaster management and relief, told Reuters. "Now that the numbers have gone up by more than 100,000 and people are still coming. So, the government has to allocate 1,000 acres (400 hectares) of forest land." Once all the trees are felled, aid workers plan to put up 150,000 tarpaulin shelters in their place.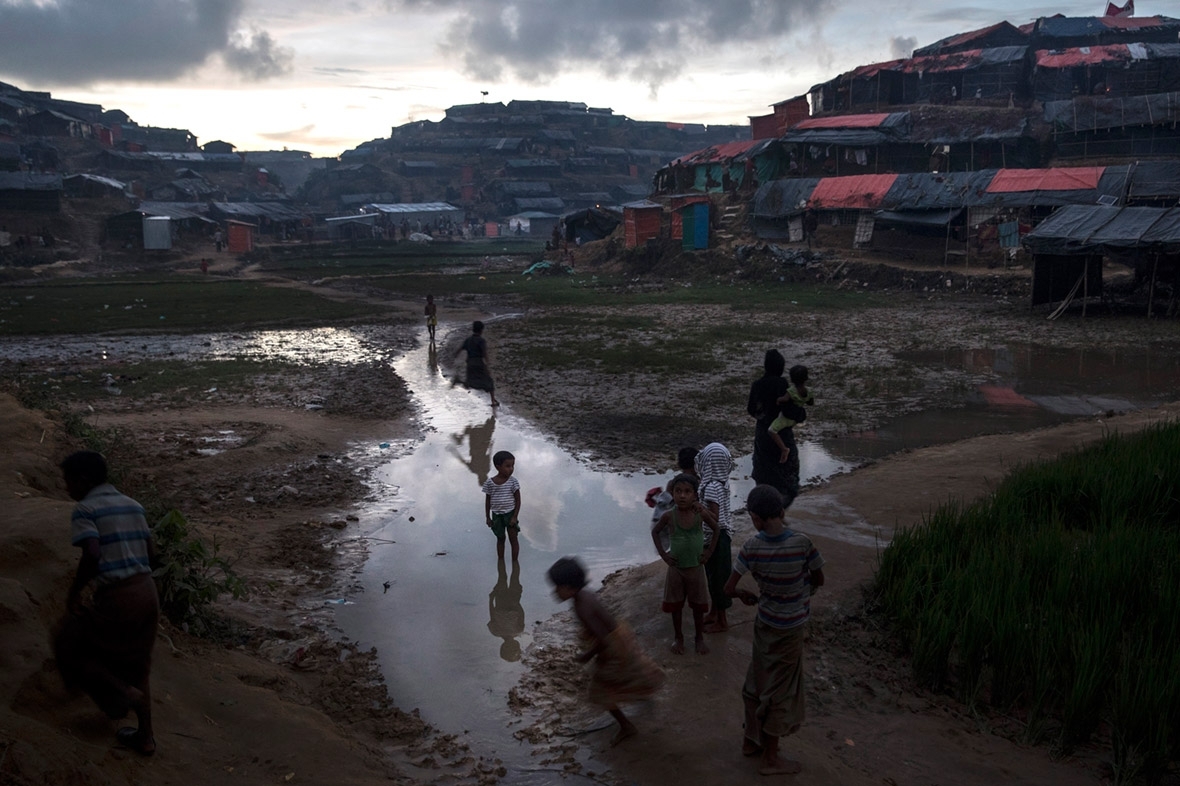 The refugees have come by land, river and sea, trekking for days in monsoon weather to find sanctuary in one of the poorest regions of a poor country. Most came with nothing more than the clothes they wore. Nearly 200 of the women have given birth since they arrived and another 20,000 are pregnant.
"Nothing comparable, in terms of the number of people arriving in such a short space of time, has happened since 1994 in Rwanda," said Christopher Lom, Asia-Pacific spokesman for the International Organisation for Migration (IOM).
At the overcrowded camps, refugees have to make long treks and stand in long lines for hours to collect food rations distributed by aid agencies daily. Incessant rains have compounded the miseries of Rohingya, many of whom have no real shelter. Panic sometimes erupts if supplies run out. Unofficial aid distributions are often carried out by locals in Bangladesh, who pile bags full of donated supplies, including clothes, on the back of the trucks and then throw them out.
UN-led aid bodies have appealed for $434 million (£330m) over six months. Aid organisations say they are ramping up their relief operations, but the sheer numbers and the enormity of the task make it almost impossible to reach out to every single person. "Bangladesh alone can't handle this. The international community must rally," David Beasley, head of the UN's World Food Programme, said after observing a handout of food to refugees at Kutupalong camp.
"We need support from around the world because you're talking about a literal humanitarian disaster," Beasley said. "If we don't get the support we need, from health care to proper nutrition and safe water and sanitation and sheltering, this could explode into a catastrophic humanitarian disaster."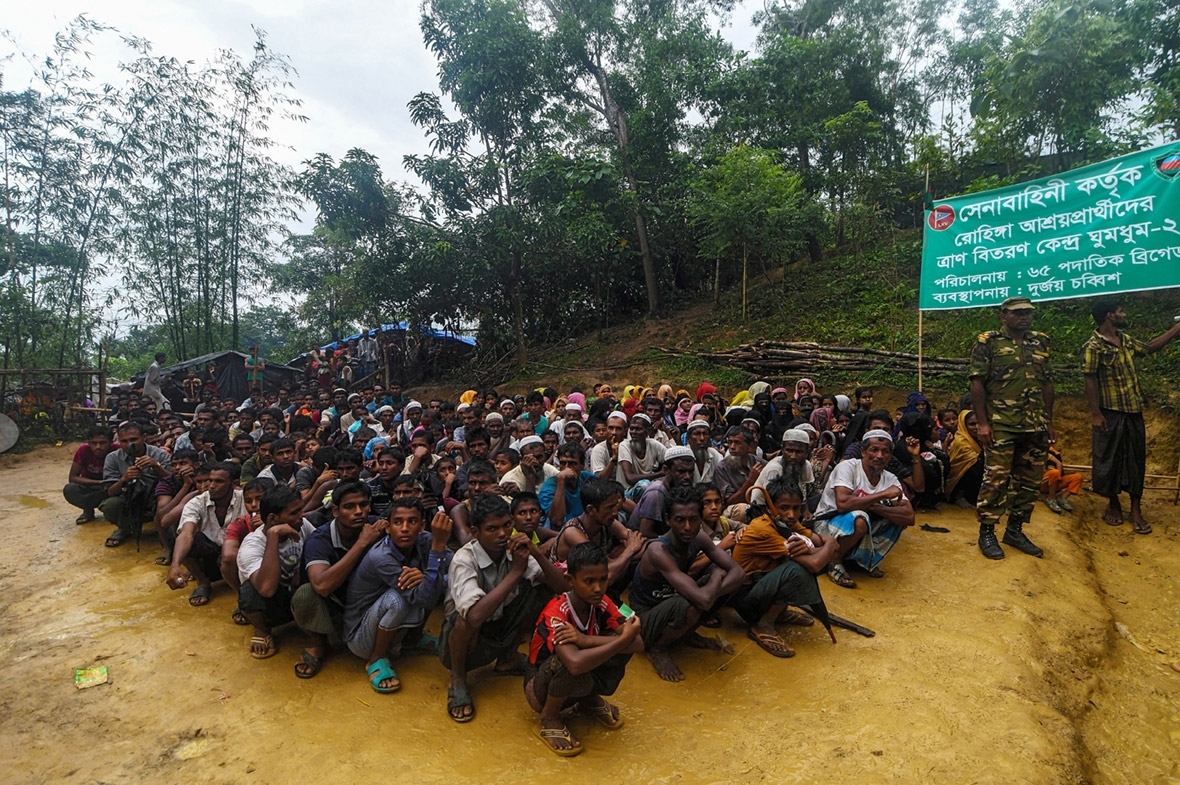 Aid agencies have warned of a malnutrition crisis among the hundreds of thousands of Rohingya refugees in Bangladesh. About 281,000 people in Bangladesh are in urgent need of food, including 145,000 children under five and more than 50,000 pregnant and breast-feeding women. "Nearly 90 percent of them have informed us that they are living on one meal per day," said Sakil Faizullah, communications manager for Unicef.
Babies, already weakened by hunger, try to fight off acute pneumonia at a clinic set up by Doctors Without Borders. Cholera is another risk, amid fears of disease spreading in the rain-drenched camps where aid workers are trying to install sanitation systems, a spokesman for the World Health Organisation said.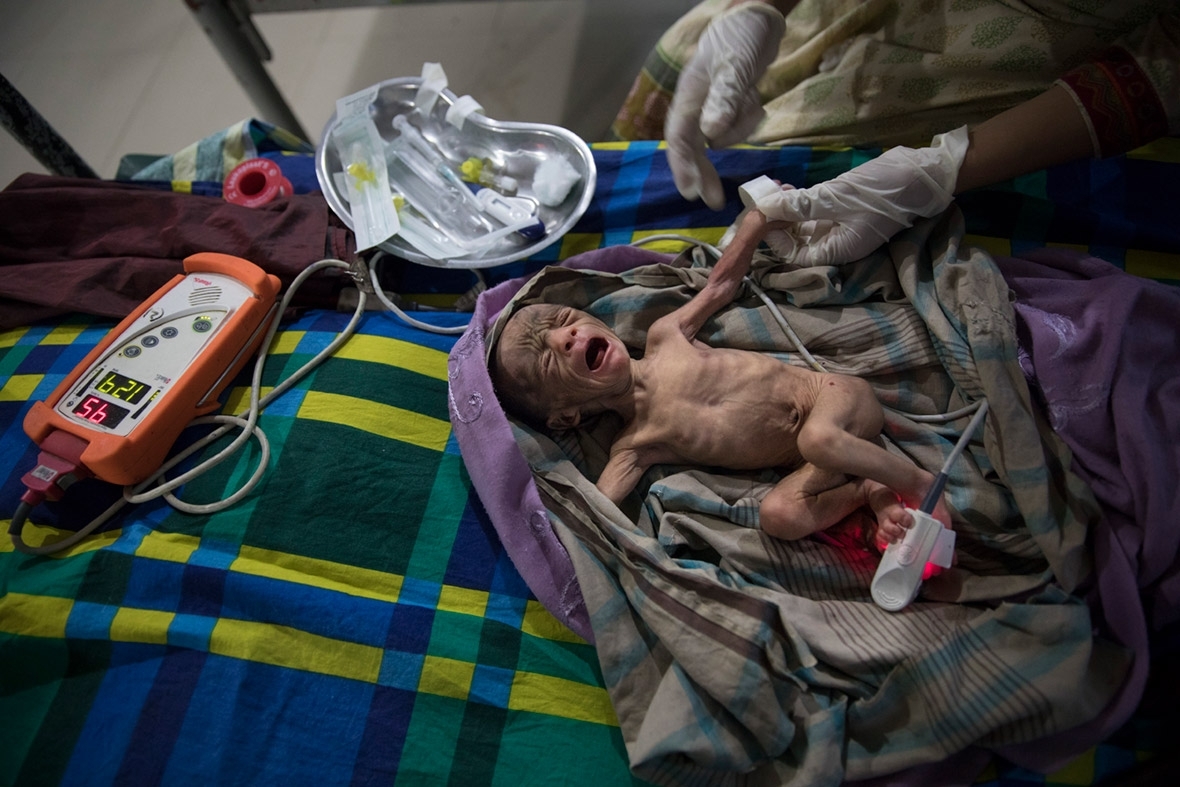 About 520,000 Rohingyas have fled Myanmar since 25 August when attacks by Rohingya militants on security posts in Rakhine State sparked a ferocious military response. Refugees and rights groups say the army and Buddhist vigilantes retaliated by engaging in a campaign of killing and arson aimed at driving the Rohingya out of Myanmar.
Myanmar rejects accusations of ethnic cleansing and has labelled the militants from the Arakan Rohingya Salvation Army (ARSA) who launched the initial attacks as terrorists who have killed civilians and burnt villages.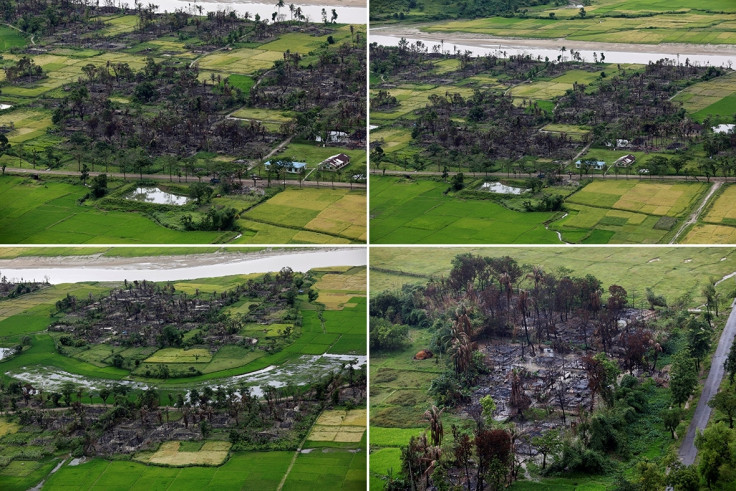 There are fears Rakhine state could be plunged into further chaos at midnight on Monday (10 October) when the insurgents' one-month ceasefire ends. The insurgents declared the ceasefire on 10 September to enable the delivery of aid but the government rebuffed them, saying it did not negotiate with terrorists.
The insurgents have not said what action they will take after the ceasefire ends at midnight, but they are ready to respond to any peace move by the government.
However, ARSA said it was "determined to stop the tyranny and oppression" waged against the Rohingya people. The ability of the group to mount any sort of challenge to the army is not known. Inevitably, there are doubts about how the insurgents can operate in areas where the military has driven out the civilian population, cutting the insurgents off from recruits, food, funds and information. ARSA has accused the Myanmar government of using murder, arson and rape as "tools of depopulation".
© Copyright IBTimes 2023. All rights reserved.