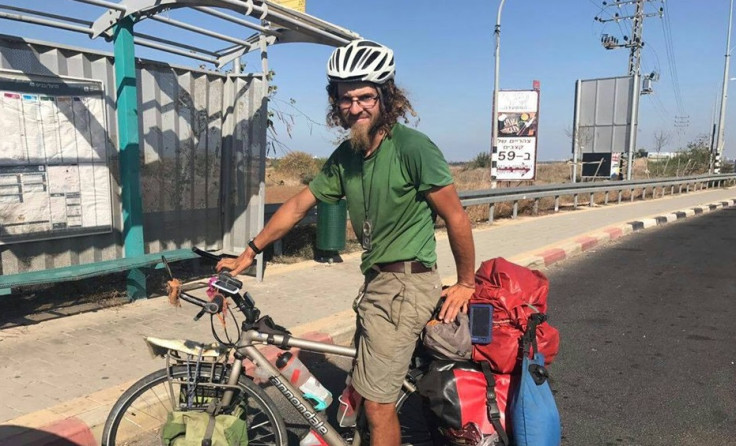 Israeli police have launched a large-scale search operation for a British tourist who went missing in the southern Israeli desert seven weeks ago.
Oliver McAfee, from Dromore, County Down, Northern Ireland, was cycling alone along the Israel National Trail, having made a visit to an observatory in the Negev desert.
The 29-year-old was last seen near the desert town of Mitzpe Ramon on 21 November with McAfee missing a return flight to the UK on 1 December.
McAfee had given up his gardening job in Essex in April to cycle across Europe and had completed about 14,000 km (8,700 miles) before his disappearance.
Israeli police have recovered his wallet, keys, and a tablet computer on the trail which were handed into police by other travellers.
The force has used helicopters, bloodhounds and desert search teams to try and find the former horticulture student, but as-of-yet, these searches have found nothing.
His brother, Matthew McAfee, 32, said the family was "devastated" about his disappearance and were concerned that photos recovered showed Oliver "wasn't himself".
"I don't think anyone can really understand what has happened," he told The Telegraph. "All the signs were that he was coming home."
He said that Oliver, an experienced traveller, had plans to settle down and buy a house and had made arrangements to stay with friends in Chelmsford, Essex, on his return.
Oliver was staying with a friend in Israel before leaving in November to visit the Wise Observatory, taking his tent and all his belongings. He was last spotted by an American traveller on 21 November.
Matthew said: "We have just got the pictures from his camera which are a bit concerning. The nature of them is just a bit out of character and suggests he might not have been quite himself."
McAfee's friends said in a Facebook post that Israeli authorities are working with Interpol and the UK Foreign Office to try and locate Oliver.
Israeli police spokesman inspector Micky Rosenfeld said they were still "optimistic" that Oliver could be found and they had found no evidence of foul play.
"Police are continuing a wide scale search of the southern Negev region," he said. "At the moment the area which we're focusing on is down south near Mitzpe Ramon."