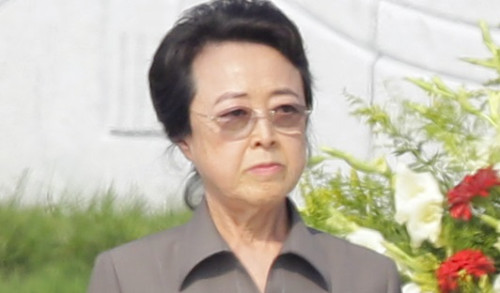 Following recent speculation she had died, it is now claimed Kim Jong-un's aunt and widow of executed Jang Song-thaek is alive but in a critical condition following recent ill health.
Reports have recently surfaced that Kim Kyong-hui, a former prominent figure in the regime, died after suffering a heart or committing suicide.
Kim, the only daughter of North Korea founder Kim Il-sung, had not been seen in public for several months and was notably absent from a ceremony marking the second anniversary of the death of her brother, Kim Jung Ill.
Speculation grew she committed suicide after the execution of her husband in December, or from a heart attack after suffering from ill health and alcoholism for a number of years.
Intelligence sources in the US and South Korea are now claiming the 67-year-old has not died, but is either in a vegetative state after undergoing an operation on a brain tumour in Paris or is critically ill following complications from a heart problem.
A report in the South Korean newspaper JoongAng Daily citing an intelligence official in Washington claims Kim had brain surgery late last year. In the aftermath of the operation, her health deteriorated so much she weighed just 77lbs (35 kg).
However, a South Korean government official has also told Yonhap News that Kim is in a "critical condition" after suffering from heart problems. The unnamed official added her condition appeared to have worsened due to alcoholism.
Kim has had to undergo treatment for cancer in the past and is also believed to have suffered from depression brought on by the death of her daughter in 2006.
Daniel Pinkston, a North Korea analyst with The International Crisis Group in Seoul, told The Daily Telegraph: "There has been a lot of information about her health problems and she has not looked well in the most recent photos and footage that have been released, so I have no reason to disbelieve these reports."
There were doubts about the legitimacy of the reports Kim had died as they arrived in the wake of media speculation regarding her husband's death.
Reports claiming that Jang was executed by being stripped naked and fed to 120 starving dogs, which featured in official Chinese newspaper Wen Wei Po, may have originated from a satirical post on the Chinese social network site Weibo.