Azerbaijan has said it is ending fighting in the Nagorno-Karabakh region, which began overnight on 1 April. However, Armenian forces stationed in the area say that their offensive had continued past 6am today (3 April).
In a statement, Azerbaijan's defence ministry told BBC News that "Azerbaijan, showing good will, has decided to unilaterally cease hostilities". However, it warned its forces would retaliate if they were attacked again.
The Armenia-backed Nagorno-Karabakh Ministry of Defence (Mod) took to social media to claim that Azerbaijan's forces had carried out artillery strikes on civilian areas, including the market town Martakert, despite the alleged ceasefire.
Yesterday (2 April), the Nagorno-Karabakh MoD said a 12 year-old boy had been killed in a Grad-21 missile strike by Azerbaijani forces. Other children have been reported to be injured in military strikes during the last two days.
At least 30 soldiers are said to have been killed in the fighting.
The sudden outbreak of violence in the region was condemned by Russian president Vladimir Putin, who called for an immediate ceasefire.
If the conflict escalated it would mean a full-scale war breaking out on Russia and Iran's doorsteps. Azerbaijan shares borders with Georgia and Russia, while Armenia shares its border with Iran.
Meanwhile, Turkey's president, Recap Tayyip Erdogan, said Azerbaijan had his country's total support. He also criticised the Organization for Security and Co-operation in Europe (OSCE), which is tasked with resolving the dispute.
Erdogan's office said the politican told an Azerbaijani reporter,: If the Minsk Group had taken fair and decisive steps over this, such incidents would not have happened. However, the weaknesses of the Minsk Group unfortunately led the situation to this point."
Turkey did not establish diplomatic relations with Armenia when the country declared independence in 1991.
Reyhan Demytrie, a reporter for the BBC based in Tbilisi, Georgia, describes both Armenia and Azerbaijan as "highly militarised" countries possessing "sophisticated weaponry".
Permanent front lines
The fighting began on Friday night. The Nagorno-Karabakh MoD claimed that Azerbaijani forces had attempted to invade the area, attacking with tanks, aircraft and artillery. The Azerbaijani MoD countered this, saying civilian areas had come under attack from ethnic Armenian forces based in Nagorno-Karabakh.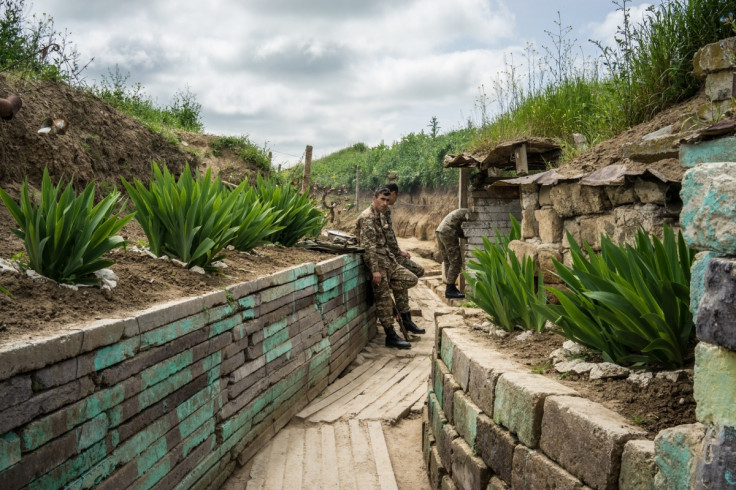 The region of Nagorno-Karabakh has been a source of conflict between Azerbaijan and Armenia, with both countries claiming ownership over the land. The USSR prevented any dispute over the area during the latter half of the 20<sup>th century, when Armenia and Azerbaijan were satellite states of the USSR. But when the Soviet empire began to disintegrate in 1991, a referendum was held in the Nagorno-Karabakh that led to it claiming independence. However, the United Nations, except for three countries, views the region as part of Azerbaijan.
The referendum led to a three-year long conflict between Azerbaijan and ethnic Armenians living in Nagorno-Karabakh. The war ended in 1994 with a ceasefire. Now Armenian forces man fortified front lines, separated from Azerbaijan forces by demilitarized zones – which both sides accuse the other of violating.
This situation has led to a 12-year long period of tension and sporadic small-scale conflicts in the area, similar to that along the North Korea-South Korea border.