Nagorno-Karabakh: Armenia and Azerbaijan conflict flares up amid Turkish-Russian tensions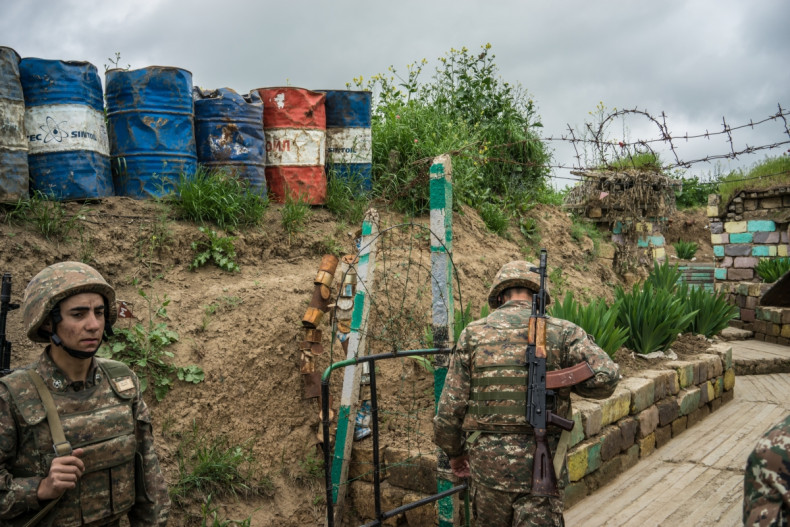 Hostilities between Azerbaijan and Armenia flared up again over the disputed region of Nagorno-Karabakh, with shelling killing at least on person. The government of the Armenian-backed breakaway republic accused Azerbaijan of using tanks for the first time in more than two decades to targets its troops on the frontline.
"The adversary violated the ceasefire more than 200 times," the rebel defence ministry said in a statement adding about 2,700 shots from tanks, grenade launchers and other weaponry were fired on 9 and 10 December. A soldier, named as Garik Avanesian, was killed.
The fighting, which Baku blamed on Yerevan, came as Armenians celebrated the 24th anniversary of Nagorno-Karabakh's vote for independence. "The regime in Armenia bears responsibility for all of this," Azerbaijan's defence ministry said, according to AFP. It claimed Armenian forces had fired mortar rounds across the border and vowing to retaliate.
The US condemned the violence. "The recent escalation of violence and the use of heavy weapons are unacceptable and we call for the sides to strictly adhere to the ceasefire regimen," State Department spokesman John Kirby said. "We express our deep condolences to the families of those who died or were injured".
The escalation followed a separate rise in tensions between Baku and Yerevan's major allies, Turkey and Russia, who have long been engaged in a struggle for influence in the Caucasus.
"We're concerned about the escalation itself and not necessarily the source," Kirby said, speaking to whether the downing of Russian fighter jet by Turkey was fuelling the conflict in Nagorno-Karabakh. "In both cases we want to see tensions de-escalated and for cool heads to prevail."
Landlocked Nagorno-Karabakh has long been the source of frictions and violence between Armenia and Azerbaijan. More than 30,000 people died as the two countries fought a full-fledged war over the enclave - located within Azerbaijan's current territory - after the collapse of the USSR in the early 1990s.
A ceasefire brokered by Russia in 1994 put an end to hostilities but international attempts to revive the peace process have failed since then. The region maintains a de facto autonomy under the control of Armenian ethnic forces, loyal to Yerevan.
However, Azerbaijan keeps claiming the land as its own, and considers it an occupied territory, stressing that the self-declared government lacks international recognition. In August, at least 15 soldiers were killed there in the worst clashes in years, while a few months later Azeri troops shot down a rebel military helicopter.