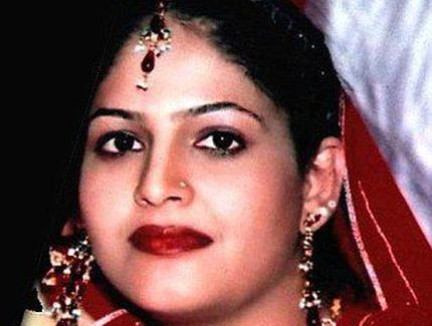 Four relatives of a pregnant woman they murdered because they believed she was possessed by demons, have been jailed for life.
Naila Mumtaz was smothered to death in 2009 at her home in Handsworth, Birmingham.
Her husband, Mohammed, 27, was among the killers.
He was sentenced along with his parents Zia Ul-Haq and Salma Aslam, both 51, and brother Hammad Hassan, 24.
Mrs Mumtaz was killed by the family because they believed Muslim evil sprits - djinns - were possessing her.
Mrs Mumtaz was six months pregnant when she died, two years after arriving in the UK from Pakistan.
After the four were convicted at Birmingham Crown Court, Det Insp Simon Astle said: "This was a tragic and deeply upsetting case, where a young woman had her life so horrifically ended by those she loved and trusted.
"Naila was a pretty, outgoing young woman who was soon to become a mother for the first time.
"It is unthinkable that those she was closest to would take her life in the belief that she had been possessed by evil spirits."
Naila's family issued a statement spoke of their shock in a statement.
"Naila was a happy, confident and beautiful young woman.
"She came to Britain to be with her husband. We entrusted our most treasured, beloved only daughter to him and his family."
Mr Justice Keith adjourned sentence on all four, who were remanded in custody, for reports to be prepared.