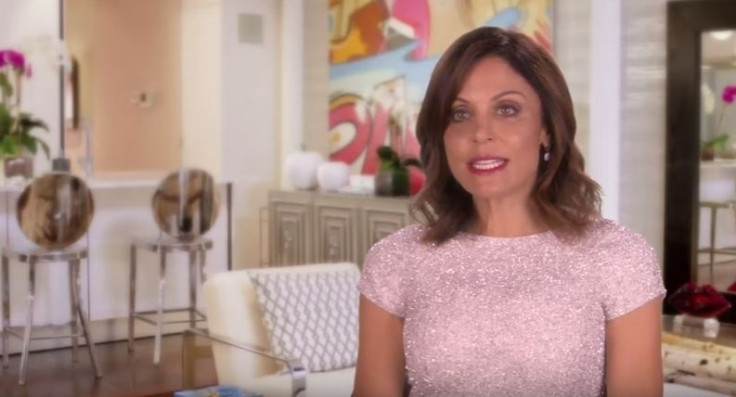 The Mexican escapade in the Real Housewives of New York's current season scorched TV screens as Bethenny Frankel and Sonja Morgan stripped down naked during a pool session and displayed some steamy lady love.
Soon after the ladies reached the luxurious La Vida Dulce Villa, they started having tequila. Few drinks later Frankel stripped naked to run an errand around the pool prompting Sonja to follow the suit. During their naked swim session, the Skinnygirl Cocktails entrepreneur joked about having a 'lesbian interlude' with the fashion designer. And, moments later they smooched.
Recalling the steamy day, their co-star Luann D'Agostino wrote: "Sonja hardly drinks anymore, but when she does, she goes all in. Bethenny should know by now that if she runs around naked in front of Sonja when she's been drinking, smooching will ensue... and it did! I did my part by grabbing the pitcher out of Sonja's hands when she started drinking from it."
In the episode, the 46-year-old author seduced her co-star by grabbing her bare breasts and said: "I have the best boobs ever!" A drunk Sonja soon followed suit and joined the striptease moment and revealed more to the camera and her co-star than they bargained for. "I haven't seen that much of my own vagina. I'll live with that sight for the rest of my life," says fellow RHONY star Dorinda Medley, who was forced to dress the 53-year-old fashion designer.
Sonja, however, wanted more than just a kiss with Bethenny and got so carried away by her hotness that she continued to approach her by saying: "You're pretty f–king hot." Later in a confessional, the Skinnygirl author said: "Sonja, I like penis, I'm sorry. You're barking up the wrong vagina."
"I'm definitely straight, but when I drink I just want to suck my girlfriends' faces off," Sonja confessed during the latest episode of RHONY which aired on 2 August on Bravo. However, her co-star Ramona Singer claims that the reality star has kissed multiple women on several occasions.
"Sonja kisses everybody. She's a kisser and a lover," she told the Daily Dish. Real Housewives of New York airs every Wednesday on Bravo network.