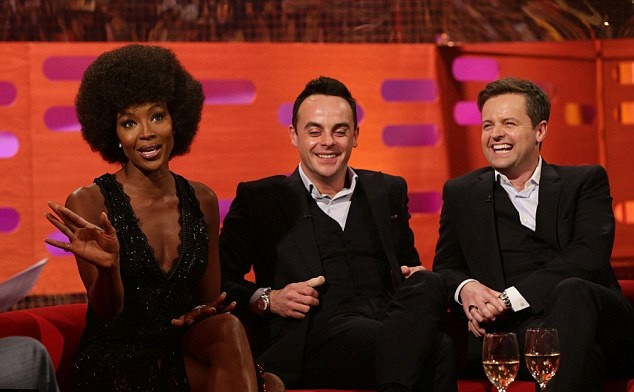 Supermodel Naomi Campbell made a rare appearance on The Graham Norton Show.
Joining guests Ant McPartlin and Declan Donnelly, Jamie Dornan, Breaking Bad star Aaron Paul and singer Ellie Goulding on Norton's famed red couch, the 43-year- old looked striking in a sequinned black dress with plunging neckline and 70's style afro wig.
With the all male couch looking spellbound in her presence The Face host, who has a reputation for having a fiery temper, was the picture of charm and congeniality.
Norton took the bold step of asking the star directly about her famed diva like behaviour, quoting newspaper headlines which read: "Naomi Campball said to be a major diva on the set of The Face."
An insider from the show reportedly claimed that the host and mentor taped her face.
"Cr**," said Campbell. "They see tape in my make-up room and they assume I tape my face."
She explained the tape was actually for her breasts and was commonly used by stars when wearing low cut dresses.
"We all do it," she said. "I'm wearing tape now. I don't want to fall out on your show. I don't want to embarrass myself. I've never taped my face."
Norton also queried the rumour that she banned members of staff on the set greeting her until she said hello.
"After 28 years I know a lot of people. And I'm a host, and a judge and a mentor and I can't do all those things and be talking to everyone, so I don't talk until lunchtime or there's a break. For me to have that boundary is important when I'm working."
"I say hello to everyone. I'm nice to my sound guy, my lighting guy because they can mess me up," she added.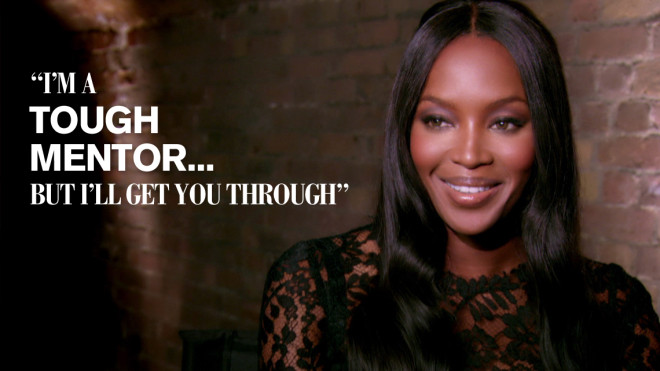 Responding directly to the charges of being a diva she said: "They say I'm a diva and then that say I do my own make up. I can tell you a real diva would never do their own make up."
"There's an intimidating thing coming for you," insisted Norton.
"That's from you," protested Campbell. "I'm just a girl from South London. It's what you think I'm going to be like."
The star who has a prolific dating history that includes Mike Tyson, Robert De Niro, Sean Coombs, Tommy Lee, Usher and U2 star Adam Clayton and is currently in a relationship with Russian real estate entrepreneur Vladislav Doronin said like most girls what she values most in a man is a sense of humour.
"The ones who are intimidated by me I'm never going to date. They have to have a great sense of humour, they cant take themselves too seriously. Life is too short and I want to have fun."