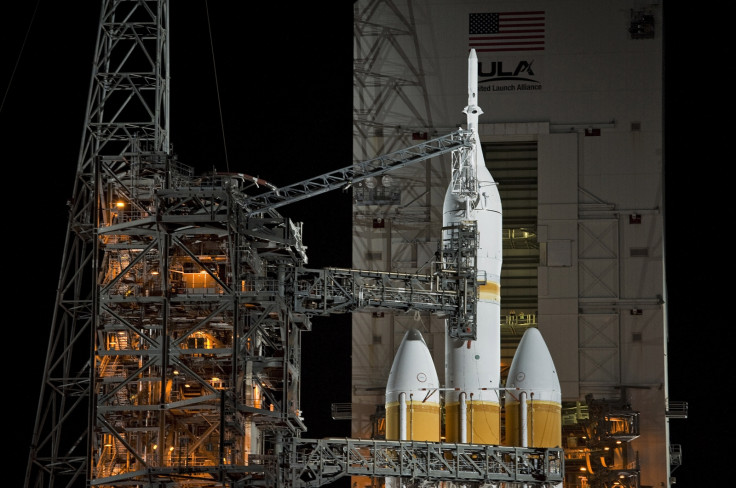 Nasa's Orion test flight to Mars has been re-scheduled to launch today (5 December) at 12.05pm GMT (7.05am EST) from Cape Canaveral Air Force Station and users can watch the second launch attempt live online here now.
Orion is a deep-space capsule that has been designed to take humans to Mars, and the test flight is mean to evaluate the launch and high speed re-entry systems, such as the parachutes and heat shield.
Coverage of the second attempt to launch Orion will start from 11am GMT (6am EST) on Nasa Television, and Nasa has allocated a two-hour, 39-minute window for the launch from 12.05pm GMT onwards.
The spacecraft was set to launch yesterday morning (4 December) but had to be postponed following two different problems during the launch window – the first, a technical issue relating to a fuel and drain valve used to fill and drain the first stage of the United Launch Alliance Delta IV Heavy rocket with propellant prior to lift-off, where the valve would not close properly.
However after this problem was solved, the test flight had to be scuppered due a boat straying inside the prohibited zone over the Atlantic Ocean. Blown into the restricted zone by strong winds, the mission would not be able to lift off until the boat was out of the zone and so had to be postponed.
So will Orion be able to take off today?
"Earlier today we were contending with some rain showers which might be an issue. One issue we might have to contend with is wind. The most easterly or southerly, the better for us, but north is not good," Mike Curie of Nasa Communications said on Nasa TV.
Current weather conditions show the winds are coming from a north-easterly direction, which could be OK, but Nasa's experts are warning it would be better to launch the rocket earlier in the launch window, rather than later.
With less than an hour to go, tests are continuing to be done to ensure that the fuel and drain valves are working properly, since the liquid hydrogen was loaded into the rocket this morning.
"If we end up with the same problem as yesterday during the countdown when Orion is about to launch, engineers will power the fuel and drain valves to 30psi (pounds per square inch) and cycle them a few times to ensure that the valves will be able to perform their job," said Curie.
"This is the result of several teleconferences last night after the mission was postponed."
What will the Orion test flight entail?
If the launch is successful this time, the US space agency will continue its live streaming coverage, following Orion as it obits the Earth twice and travels to a distance of 5,794km (3,600 miles) into space.
Once the tests have been completed, Orion will head back to Earth and Nasa has calculated the capsule will re-enter the Earth's atmosphere and splashdown into the Pacific Ocean approximately four-and-a-half hours after it launches.
If Orion succeeds, Nasa will have a pretty good idea about how successful their spacecraft is and how well it can stand a mission into deep space.
After this, another unmanned mission will be carried out in 2018. And if that goes well, it will then be possible to send the first human mission to Mars.
There will also be a post-flight news conference scheduled by Nasa to elaborate on how the test flight has gone about two hours after splashdown.
Last night, at a news conference after the mission was postponed, United Launch Alliance chief operating officer Dan Collins said: "We'll go make sure we have a happy rocket. This is something we've seen on one previous Heavy launch where we had a long window and gone quite a ways into the window.
"We're off today, going to execute the same procedures that we did after that last attempt. We're very confident that we're going to be able to exonerate the hardware and then make an attempt, get going on console again early on Friday morning."