Nasa powers up Orion spacecraft that will carry man to the moon, Mars and beyond for the first time
Orion is destined to take humans "father into space than we've ever gone", officials said.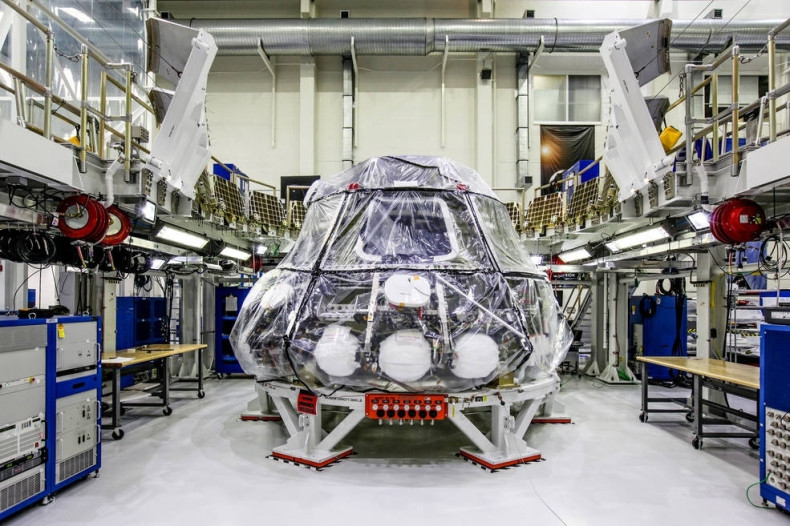 Nasa and Lockheed Martin engineers powered up Tuesday (22 August) the latest version of the Orion spacecraft that will eventually carry humans to the moon, Mars and beyond. The ambitious crew module was switched on for the first time in Orion's spacecraft factory, the Neil Armstrong Operations and Checkout Facility in Nasa's Kennedy Space Center in Florida.
The Orion is set to fly more than 40,000 miles at a swift 25,000 mph beyond the Moon's orbit in a historic, unmanned three week mission called Exploration Mission-1 (EM-1) that is set to launch in 2019. The spacecraft will be perched atop Nasa's massive Space Launch System, dubbed the "most powerful rocket in the world". Following the three-week mission, the Orion will then splashdown to Earth in the Pacific Ocean.
The inaugural power up marked the first time the vehicle management computers were connected to Orion's power and data units, loaded with flight software and tested "to ensure the systems communicate precisely with one another to accurately route power and functional commands throughout the spacecraft for the duration of a deep-space exploration mission."
During the ambitious flight, Orion will generate power via its four solar array wings. Collectively, these wings hold about 15,000 solar cells - capable of harnessing enough electricity to power 8 three-bedroom houses. Orion power and data units will then distribute the harnessed power throughout the craft as required.
Most of the subsystems and avionics will be the same design that astronauts will eventually rely on them to navigate through space in future missions with Orion.
Orion is designed to eventually transport humans far beyond low-Earth orbit, the Moon and eventually Mars and beyond.
The upcoming mission will be critical to "confirming the Orion spacecraft and all of its interdependent systems operate as designed in the unforgiving environment of deep space," Lockheed Martin, Nasa's prime contractor for Orion, said in a statement.
NASA Orion program manager Mark Kirasich said the event was a "major milestone for Orion and for our long range deep space exploration plans."
"The initial power-on procedure verified the health and status of Orion's core computers and power and data units and marks the beginning of critical spacecraft subsystem tests to get us ready for flight," NASA Orion program manager Mark Kirasich said. "Our test team, ground support equipment and flight systems all performed remarkably well during the test."
Over the next 2-3 months, engineers and technicians will continue to add, integrate and test the 55 different components that will make up Orion's avionics suite and connect them with about 400 harnesses. They will also conduct functional performance tests as each system is installed.
Nasa has been working on the project since the Space Shuttle program was retired back in 2011. Lockheed Martin is responsible for the design, build, testing, launch processing and mission operations of Orion. Nasa aims to launch the first manned mission sometime in 2021.
"Orion was designed from the beginning to take humanity farther into space than we've ever gone, and to do this, its systems have to be very robust and reliable," Mike Hawes, vice president and Orion program manager at Lockheed Martin, said. "Over the last year, we've built great momentum in assembling the crew module for EM-1."
"Everyone on the team understands how crucial this test campaign is, and more importantly, what this spacecraft and mission means to our country and future human space flight."