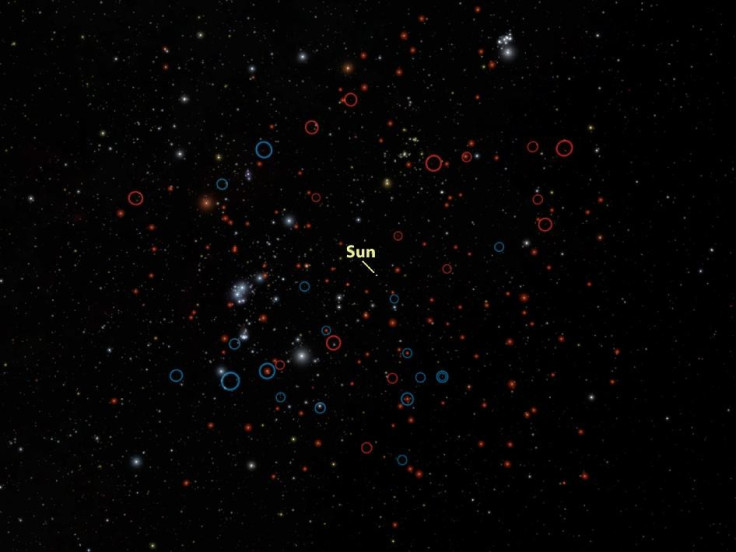 Nasa scientists have found that there are only a few brown stars in our celestial backyard than previously estimated, according to a new report.
Brown dwarfs are sub-stellar objects, that have very little mass for them to be stars and too large for them to be planets. These objects are hard to find because they do not emit light. They are relatively cool, with surface temperatures less than 2500 degrees Celsius. Scientists can only view these objects through infrared detectors.
Previously, scientists using ground-based Infrared detectors had claimed that there are more brown dwarfs than normal stars in our galaxy.
Now Nasa scientists have discovered that there are fewer brown dwarfs than previously suggested. They have found that there is only one brown dwarf for every six stars. They discovered this with the Nasa's Wide-field Infrared Survey Explorer, or Wise.
"This is a really illuminating result," said Davy Kirkpatrick, scientists at the Nasa's Infrared Processing and Analysis Center at the California Institute of Technology, in a statement. "Now that we're finally seeing the solar neighbourhood with keener, infrared vision, the little guys aren't as prevalent as we once thought."
"Having fewer brown dwarfs than expected in our celestial backyard just means that each new one we discover plays a critical role in our overall understanding of these cold objects," said Chris Gelino, scientist at the Nasa's Infrared Processing and Analysis Center at the California Institute of Technology, in a statement. "These brown dwarfs are fascinating objects that are bridging the gap between the coldest stars and Jupiter."
The study claims that this unique discovery will provide crucial information about how these exotic worlds form, and hinting at what their population densities might be like in our galaxy and beyond.
Wise was launched to survey and capture image of the sky by using infrared sensitive digital camera. Each picture will cover an area of the sky three times larger than the full moon. One of Wise's main goals was to survey the sky for the elusive brown dwarfs and it has captured several images of brown dwarfs.
During the survey, Wise discovered a new kind of brown star, a new class of stars called Y dwarfs in 2011. Y dwarfs were the coolest brown dwarfs spotted. One of the Y dwarfs is less than 80 degrees Fahrenheit (25 degrees Celsius), or about room temperature, making it the coldest star-like body known. Since then, the Wise science team has surveyed the entire landscape around our sun and discovered 200 brown dwarfs, including 13 Y dwarfs.
Watch the video: