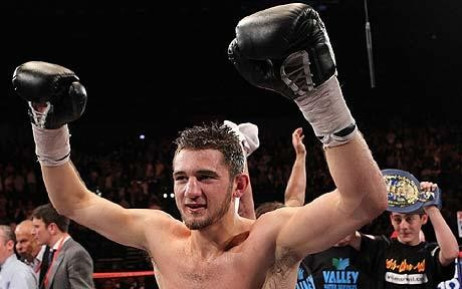 Nathan Cleverly has revealed that he was on the verge of securing a mouth-watering showdown with Bernard Hopkins only for the WBO to order him to defend his WBO light-heavyweight title against manadatory challenger Robin Krasniqi.
The undefeated Welshman was hoping to secure a bout with the legendary American in March and it seemed as though his wish would be granted. However, his dreams were dashed and he must now face the tough German-based Serbian before hopefully securing a more high profile bout later in the year.
"In an ideal world we would have liked that fight [against Bernard Hopkins] as it is probably the biggest fight out there for me at the momet," Cleverly exclusively told IBTimes.co.uk. "But we have been ordered to fight the mandatory by the WBO or be stripped of my world title so we have been left with no option. As a champion I have to play by the rules and fight this guy."
Krasniqi boasts an impressive record of 39 wins and just two losses which occured right at the start of his career. Despite this fact, it is clear that it is somewhat of a step down from facing a ring legend like Hopkins.
Some fighters may let their heads drop but Cleverly is just as determined to put on a good show against the 25-year-old as he would be against the very best in the division.
"I am quite motivated for this fight as I know that this guy is dangerous. I know that he's not a big name but he can fight," added the Welsh fighter. "He's 25 and he's hungry so I expect this to be a good, exciting fight. It is still massive for me as I have to win it to keep those big fights alive.
"If we win this fight we have the mandatory out the way and a unification fight looms so 2013 is a big year for me. This could be the year where I unify the division and I can't wait for that day."
Hopkins is scheduled to fight Tavoris Cloud for the IBF light heavyweight title just one week before Cleverly defends his WBO strap, and while the Brit admits that he would still love to face 'The Executioner', he says it will only happen if wins yet another world title.
"Hopkins is the bigger draw because of his status and name in the sport. He is the biggest name in the division but I just want to fight whoever has the belts," admits Cleverly.
"To have the opportunity to unify would be massive and if I could do that then I would prove I am the number one in the division so that is the goal."
Cleverly is still in his mid-twenties, some 23 years younger than Hopkins, and admits that it is early days in his career. However, there is the potential for some huge fights in the next 12 months and he has one eye on adding the WBC belt to his collection before the year ends.
Current champion Chad Dawson overcame Hopkins last year and is set to face the winner of Tony Bellew against Isaac Chilemba. The pair will meet in March to decide who is the number one contender for the WBC crown and Cleverly reveals he would be more than happy if his fellow Brit came out on top.
Cleverly said: "It is quite hot with the names in the division right now. Obviously Bellew is potentially fighting for the WBC and if he wins that then it's great as it sets up potentially a big unification fight which would be a massive show."
The popular scouser lost a majority decision to Cleverly back in October 2010 after a heated rivalry which saw Bellew consistently bad mouth his opponent in the build-up to the fight.
Since that bout Bellew has been on an impressive winning run and is now just one fight away from having another crack at a world title.
Should the two meet again in a unification bout then it would be a huge occasion for British boxing. In the meantime Cleverly has his sights firmly set on Krasniqi. Should he overcome the tough Serbian then it really could be a massive year for the likeable champion.