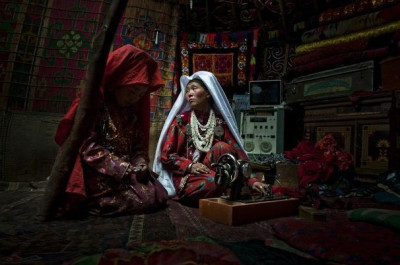 The call for the 2012 National Geographic Photo contest resulted in a staggering 12,000 entries from 6,615 photographers in 152 countries. After much judging, debate and discussion, 11 photographs have been chosen as being particularly special and worthy of prizes ranging from the chance to go on a photography expedition on the legendary Galapagos Islands to gift certificates from B&H Photography.
The winning photograph - captured by Cedric Houin and titled Butterfly - was shot in the Kyrgyz lands of Afghanistan's Wakhan Corridor and shows a woman and child sitting inside a yurt, a traditional wooden-framed portable house. The second prize went to Vo Anh Kiet of Vietnam, whose photograph of children playing with balloons was received wonderfully well. The third place photographer was Andrea Guarneri, whose winning photograph was about Easter celebrations in the picturesque environs of Sicily, Italy.
The winning entries come in from across the world, including countries like Madagascar, Vietnam and Norway.
This is the 24th edition of the annual competition and submissions were judged on creativity and photographic quality, by a panel of judges including National Geographic contributing photographer Alexandra Avakian.
The 2011 contest was won by Shikhei Goh, for his photograph of a dragonfly riding out a rainstorm. The photograph, taken in Indonesia, was called Splashing and Goh won a little over £6000 for his work, as well as a trip to the National Geographic headquarters in Washington DC, to participate in the annual photography seminar.
This year's winner, apart from the prize money, will also be given a ten day trip, with a staff photographer, to the legendary Galapagos Islands, where he/she will have the chance to shoot some of the archipelago's unique flora and fauna and also be trained in the nuances of shooting wildlife.