The conflict in Ukraine "is not a matter for Nato", the alliance's former deputy supreme allied commander for Europe has said, as he called for greater military and logistical support to Kiev from individual countries.
General Sir Richard Shirreff told an audience in London that nations, including Nato members, should focus on bilateral support for Kiev as a consensus from the alliance for military help would be unlikely.
"I don't think this is a matter for Nato because Ukraine, while a valued Nato partner, is not a member of Nato and therefore not protected by Nato's guarantee of collective defence.
"However, I do think that Nato could provide training and other such support but military hardware is more likely to be more forthcoming if it comes from individual Nato nations on a bilateral basis."
He said that alliance members, in particular those with former Soviet Union or Warsaw Pact military equipment and weapons systems compatible with those used by the Ukrainian military, could play a key role.
In a lecture on Wednesday (26 January) organised by the Henry Jackson Society think tank and held at a committee room in the House of Commons, Shirreff laid out what military assistance Ukraine needed. This included counter battery radars to help police any ceasefire and allow the Ukrainian military detect Russian launch rocket systems.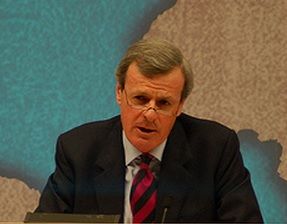 He also said Ukraine needed more medium-range unmanned aerial vehicles (UAVs), support to help secure communications and help to provide more field hospitals to increase survival rates for Ukrainian soldiers.
But he said that any military equipment should only be provided to the Ukrainian army and not volunteer or militia battalions.
"The US, the UK and other western countries should aim to create a situation in which the Kremlin considers the option of further military action in Ukraine too costly to pursue," he said.
His comments come as Ukrainian president Petro Poroshenko approved foreign army units to engage in military drills in the country later this year.
Kiev will be eagerly watching what Donald Trump's presidency will mean for the conflict which has been ongoing in the Donbass region since 2014, given the prospect that Washington may pivot more towards Moscow.
But Ukraine's deputy foreign minister Olena Zerkal has said that Kiev must have its say in any possible deal between Moscow and Washington aimed at ending the Donbass violence, telling Reuters that "because we are talking about the future of our country, we don't want to be excluded from the negotiations".
Kremlin spokesman Dmitry Peskov said earlier in January that Russia expects a change in US policy on settling the conflict.
"In what direction will it change, how it will transform, will the new modality of the US position regarding Ukraine contribute to the settlement - we will see very soon," Peskov told Vesti.ru.