In the final game of an epic seven match series LeBron James arced his 20-foot jumper over the outstretched arms of San Antonio's Kawhi Leonard to put Miami 92-88 up with just 27.9 seconds remaining. It was the shot that helped define his career and secured a second consecutive NBA title for the Heat.
James would finish with 37 points and 12 rebounds as he simply controlled everything down the stretch. The Heat would eventually secure the title with a 95-88 victory over the San Antonio Spurs but it was their 6ft 8" forward that received much of the credit after a commanding performance in one of the most high pressure games of his career.
"This is what it's all about," James said. "I came here to win championships and to be able to go back to back, two championships in three years, so far, it's the ultimate."
'King James' arrived in Miami with a weight of expectation on his shoulders after failing to lead the Cleveland Cavaliers to a NBA title. In his first season with the Heat he would face plenty of criticism for his performances in the Finals as they fell short against the Dallas Mavericks. His response the following season underlined his class as he received the Finals MVP Award after leading his team to victory over Oklahoma City Thunder.
Again he would prove to be the difference in this final game as he equalled the record for most points scored in a NBA Finals game seven. He also became just the third player to win the regular season MVP award and the Finals MVP in the same season multiple times - following in the footsteps of legends Michael Jordan and Larry Bird.
"Listen, for me I can't worry about what everybody says about me," said James after fielding questions comparing him with Jordan. "I'm LeBron James, from Akron, Ohio - from the inner-city - I'm not even supposed to be here. Every night I walk into a locker room and see LeBron James on the jersey, I'm blessed."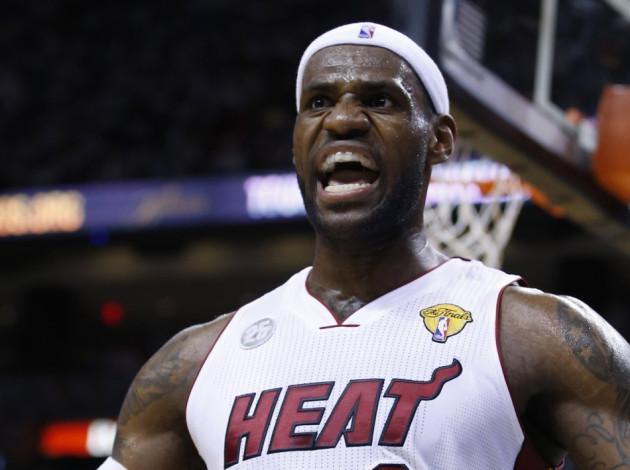 While James would rightfully receive much of the credit for the victory, there was another towering performance from fellow superstar Dwyane Wade who had 23 points and 10 rebounds.
"It took everything we had as a team," said Wade. "Credit to the San Antonio Spurs, they're an unbelievable team, an unbelievable franchise. This is the hardest series we ever had to play. But we're a resilient team and we did whatever it took."
San Antonio had never looked like gaining victory in game seven and there is little doubt that the players were effected by what had happened just two nights previously. The Spurs were within three seconds of winning the title before losing in overtime 103-100.
It was a devastating night for star trio Tim Manu Ginobili, Tony Parker and Tim Duncan who put in another monster performance with 24 points and 12 rebounds.
"In my case, I still have Game 6 in my head," Ginobili admitted. Today, we played an OK game. They just made more shots than us. LeBron got hot. Shane (Battier), too. Those things can happen. But being so close and feeling that you are about to grab that trophy, and seeing it vanish is very hard."
While Duncan added: "Just give credit to the Miami Heat. LeBron was unbelievable. Dwyane was great. I just think they found a way to get it done. We stayed in the game. We gave ourselves opportunities to win the game. We just couldn't turn that corner."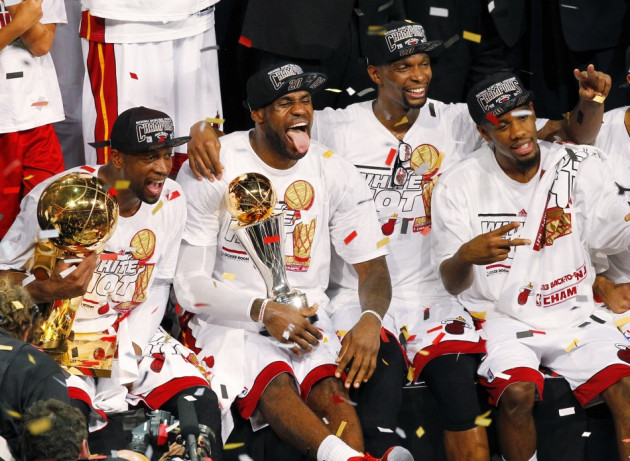 It could now be the end of an era for this San Antonio team with Duncan now 37 and Ginobili turning 36 years old next month when he will become a free agent.
James too can become a free agent next summer but there is little to suggest that he will walk away from Miami who are rewriting the history books with the 28 year old at the helm.
The worrying fact for opposing teams is that James is continuing to improve and it seems he is determined to get even better.
"I work on my game a lot throughout the offseason," revealed James. "I put a lot of work into it and to be able to come out here and (have) the results happen out on the floor is the ultimate. I'm at a loss for words."