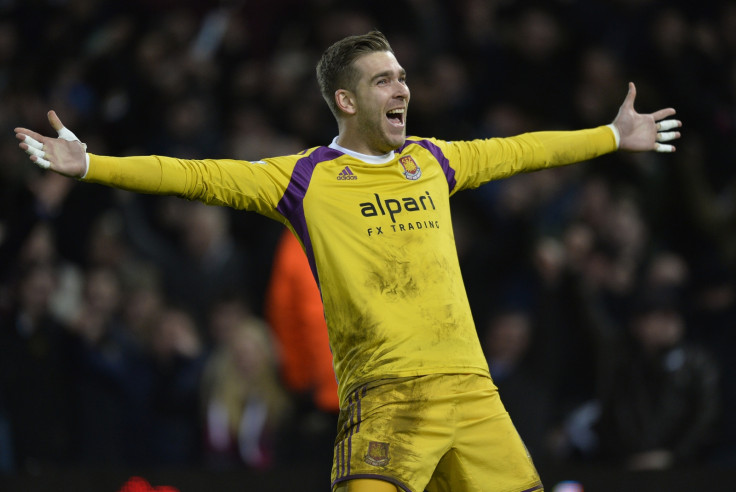 West Ham assistant manager Neil McDonald has revealed goalkeeper Adrian Sam Miguel made an impressive display during the 3-0 defeat at Arsenal on Saturday 14 March despite dislocating his finger during the warm up.
The Spaniard was arguably the best player of the Hammers, keeping his side with hopes to secure a point during an impressive first half, making several saves to Alexis Sanchez, Aaron Ramsey, Theo Walcot and Olivier Giroud.
"Game-plan wise it wasn't too bad in the first half and the response from the players was really good, considering we have got a few important players injured. The goalkeeper was also absolutely magnificent, considering he dislocated his finger before the game," the assistant manager said.
"He was very brave in playing on and made some important saves."
But Adrian couldn't do anything to stop Giroud to open the game just before half-time, with the Gunners scoring further two goals throw Aaron Ramsey and Mathieu Flamini in the second half.
"We were right in it until they scored their second goal. We also had to recover from the sucker punch of them scoring in the final five seconds of the first half.
"Even though they breached us a couple of times, Adrian has made some fantastic saves to keep us in the game early on, so that goal knocked the stuffing out of us right on half-time."
McDonald indeed believes his side eventually deserved a much better result from their visit to the Emirates Stadium.
"We got in behind them and created a couple of chances, but we didn't take them and then we got hit with another sucker punch with two goals in quick succession, as Arsenal sometimes do at home.
"We were disappointed with their second goal, as it came from a throw-in situation and we work very hard on stopping the opposition scoring from set plays.
"The second goal killed us and didn't really give us a chance to get back into the game, then their third one shouldn't have happened because we should have shut up shop and not allowed it."