Nelson Mandela's group The Elders just united from around the world to march for peace
KEY POINTS
Mandela's widow, Kofi Annan and Ban Ki-Moon among those calling for global peace during London march.
Walk Together campaign will continue until July 2018 to commemorate 100 years since Mandela's birth.
Speeches at event called for restraint over nuclear tensions with North Korea.
Several former world leaders have taken part in a march for peace through central London as part of a long-running Walk Together campaign to continue to push for Nelson Mandela's calls for tolerance and solidarity.
Mandela's widow Graca Machel and former UN secretary generals Kofi Annan and Ban Ki-Moon were among hundreds to take part in the march organised by The Elders, an independent group of world leaders founded by the former South African president a decade ago.
Others who took part in the march include fellow Elders Gro Harlem Brundtland, Norway's first female prime minister, former president of Chile Ricardo Lagos and former Mexican president Ernesto Zedillo.
Also at the march was Virgin business tycoon Richard Branson, who is a patron of The Elders.
Ahead of the march to the Nelson Mandela statue in Westminster, Annan, a Nobel Peace Prize winner and chair of The Elders, told the crowd in Trafalgar Square that they must send a message to the leaders of the nuclear powers to "put the plant first" in the wake of ongoing tensions between the US and North Korea.
He added: "Only collective action and cooperation can meet global challenges, from climate change to nuclear proliferation, and only solidarity can protect fundamental human rights and freedoms from tyrants and abusers."
Machel, co-founder of The Elders with her late husband added: "We stand here today in London and across the world as a sea of human dignity defenders.
"We possess the force of an ocean, and can overpower that which does not move us forward along our path to freedom and justice for all. And if our struggle is to be successful, then Madiba's values must lie at its heart."
The Elders' Walk Together campaign was announced in Cape Town earlier this year as part of the group's 10-year anniversary and will continue onto 18 July 2018 to commemorate the centenary of Mandela's birth.
The campaign aims to "celebrate and lift the voices of morally courageous leaders around the world, and challenge division, hatred and xenophobia by espousing the freedoms Mandela fought for all his life".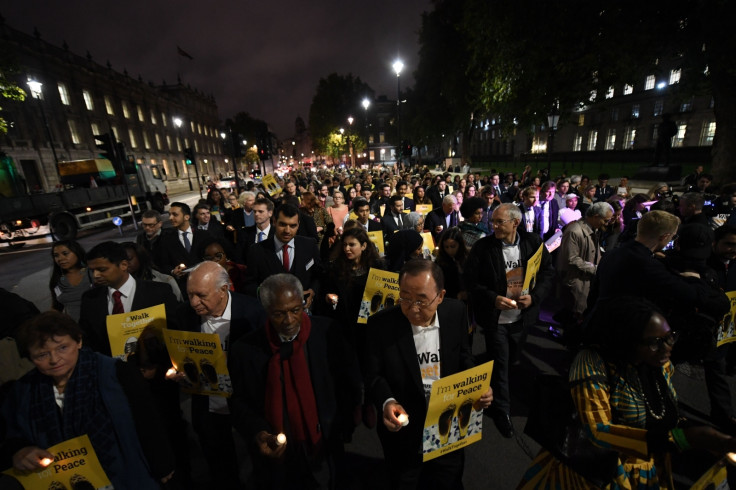 This article has been amended to state that Richard Branson is a patron of The Elders.