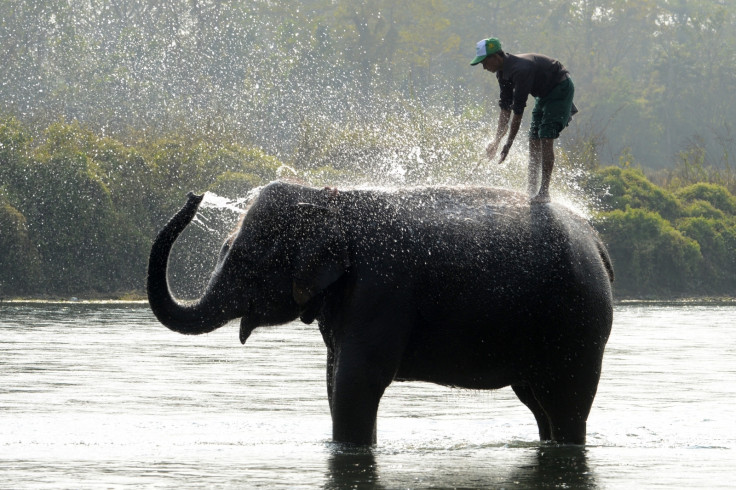 Elephants have helped rescue hundreds of tourists trapped in a flooded jungle safari park in Nepal, officials said on Monday 14 August. It comes after four days of relentless monsoon rain in the Himalayan country caused flash floods and landslides, leaving 70 people dead.
Hotels and restaurants in the popular resort town of Sauraha were among those affected when the Rapti River overflowed its banks, leaving 600 tourists trapped. "Some 300 guests were rescued on elephant backs and tractor trailers to (nearby) Bharatpur yesterday and the rest will be taken to safer places today," Suman Ghimire, head of a group of Sauraha hotel owners, told Reuters.
Relief workers say 26 of the Nepal's 75 districts have been either submerged or hit by landslides. This includes large swathes of farmland in the southern plains, raising fears the country could face food shortages due to crops being ruined. Information and Communications Minister Mohan Bahadur Basnet said more than 60,000 homes were also under water.
"The situation is worrying as tens of thousands of people have been hit," Basnet told Reuters, adding that the death toll is expected to rise with 50 more people still reported missing.
The Red Cross, which is assisting in relief efforts, said more than 100,000 people have been affected by the floods, with heavy rain forecast over the coming days expected to worsen the situation. Prime Minister Sher Bahadur Deuba expressed his condolences and urged people to remain calm. "I have already instructed authorities concerned to rescue flood victims, move them to safer locations and immediately provide relief to them," he said.
Monsoon floods have also killed 73 across northern and eastern India and 22 in Bangladesh. Pictures of the damage show collapsed bridges and roads blocked by debris and landslides, hampering relief efforts.
Almost the entire Kaziranga national park in northeast India – home to the world's largest population of the endangered one-horned rhinoceros – is under water, officials added. The animals have reportedly moved to high ground. Monsoon rains, which start in June and continue through September, cause floods in the region every year.