Netanyahu in Secret Amman Meeting With Jordanian King Abdullah Over Jerusalem's Temple Mount Violence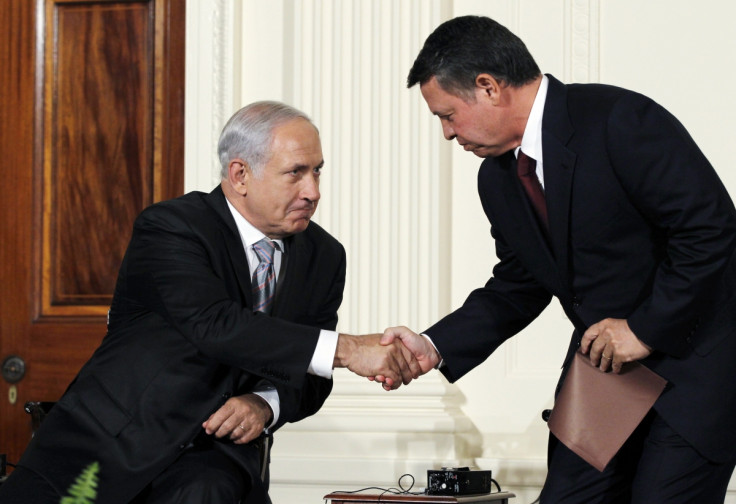 Tension in Jerusalem has run high after the attempted assassination of a hardline Jewish activist, who has been campaigning for Jewish prayer in the hilltop holy site known as Temple Mount among Jews and Haram al-Sharif among Muslims.
Fierce clashes erupted in occupied East Jerusalem after the suspected gunman of rabbi Yehuda Glick was shot dead by Israeli security forces near his house in Abu Tor neighbourhood. The body of Moataz Hejazi , a 32-year-old convicted member of Islamic Jihad who served 11 years in Israeli prisons, was seen by several witnesses lying in a pool of blood on the rooftop of his three-storey house.
The situation in flashpoint Temple Mount was so tense that after the attempted Glick assassination Israeli authorities decided to seal off the site, enraging Palestinians and causing their president Mahmoud Abbas to say that the closure of Islam's third holiest site was "almost a declaration of war".
The worrying escalation echoed the series of events leading to the Second Intifada (or uprising) in 2000, which began after a visit by the late ex-PM Ariel Sharon to Temple Mount. Unexpectedly, though, Israeli Prime Minister Benjamin Netanyahu appealed for calm in Jerusalem, rejecting pressure from Jewish far-right groups to open the site to Jewish prayer after the shooting of Glick.
"I think that what is necessary now is to show restraint and to work together to calm the situation... I also ask that private initiatives be avoided as well as unbridled statements," he said at a cabinet meeting. "We are committed to the status quo for Jews, Muslims and Christians."
Secret meeting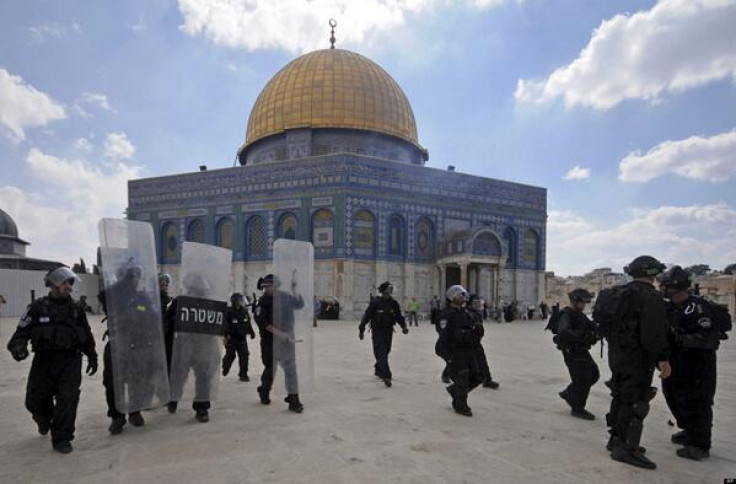 According to a report published in the Kuwaiti newspaper al-Jarida, Netanyahu held a secret meeting in Amman with Jordan's King Abdullah II to discuss the escalation in violence in the site. The Haram al-Sharif site has been administered by an Islamic Waqf (trust), under the authority of Jordan, since the crusades.
The two leaders reportedly agreed increase coordination in an attempt to ease tensions at the site. Furthermore, Netanyahu promised to prevent Jews from entering Temple Mount in the near future and to lay out regulations for tourists' entry to the site.
The Haram al-Sharif compound sits just above the Western Wall plaza, where Jews are allowed to pray. It is considered the holiest site for Jews, as it is the place where God chose the Divine Presence to rest.
According to scripture, it is where God gathered dust to create Adam, and also the location where Abraham tied up Isaac. It was also the place where Jews believe the First and Second Temples once stood. The Second Temple was destroyed by Romans in 70 AD.
The Mount is Islam's third holiest site after Mecca and Medina and contains the al-Aqsa mosque. It is considered to be the place where Muhammad travelled to Jerusalem and ascended to heaven.
Israel has controlled access to it since the occupation to East Jerusalem in 1967, also implementing a ban on all non-Muslims prayers as a security measure - something hardline settlers and campaigners want to change.
Last year, Arab-Israeli Members of the Knesset were expelled from a parliamentary meeting to discuss plans for the Haram al-Sharif. They were protesting against what they perceive as a desecration of the site, which has been stormed several times by Jewish extremists.
Netanyahu's meeting with King Abdullah was not confirmed by Israeli and Jordanian authorities. The Israeli PM reportedly urged Israeli MKs (members of Knesset) to "lower the temperature" in Jerusalem. US secretary of State John Kerry also appealed to Israeli and Palestinian leaders for calm.
The only lawmakers who defied Netanyahu and visited the site on Sunday was Moshe Feiglin, a rightwing activist from the PM's Likud party. Palestinian president Mahmoud Abbas was allegedly informed of Netanyahu's meeting with King Abdullah, and praised Netanyahu's appeal for calm as a "step in the right direction".
Clashes in Jerusalem's holiest and most contented site erupted earlier this year when police allowed Israeli right-wingers and ultra-Orthodox Jews to enter the compound to observe the Jewish holiday of Sukkot, or the feast of the Tabernacles.
© Copyright IBTimes 2023. All rights reserved.