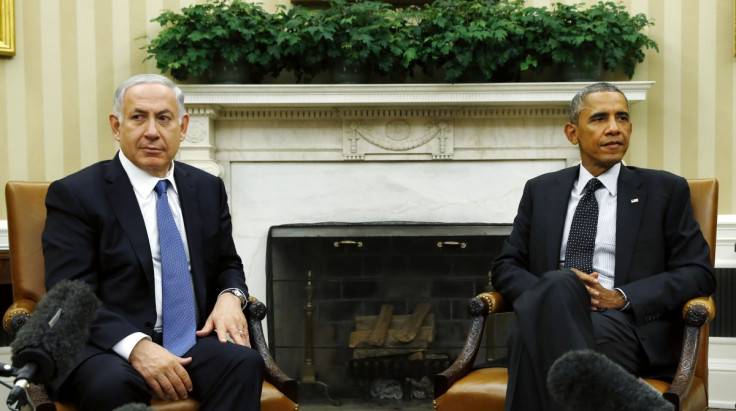 Israeli Prime Minister Benjamin Netanyahu will meet US president Obama on Monday 9 November as the relationship between the two allies is at a historic low. Netanyahu's visit coincides with rising violence between Israelis and Palestinians, with stabbings, shootings, car assaults and clashes killing 56 Palestinians and nine Israelis, with hundreds more wounded.
The White House recently conceded that there is no possibility for peace between Israelis and Palestinians before Obama leaves office in January 2017. Meanwhile, Ran Baratz, a key aide to Netanyahu, was forced to apologise last week after describing the US president as the "modern face of anti-Semitism" and calling US secretary of state John Kerry a "man with the mental age of 12".
The two leaders will meet on Monday for the first time since Netanyahu created an acrimonious and partisan split with Obama administration over the Iran nuclear agreement. The meeting is supposed to bolster the US-Israel strategic relationship with talks on US military support, implementation of the Iran deal, and the US's diplomatic initiative in Syria, according to Al Jazeera.
However, talk about a two-state solution to the Palestinian conflict seems to be off the table after the White House's admission earlier this week, and Netanyahu's rejection of the plan in March of this year.
The meeting will instead be about repairing the damaged relationship between Obama and Netanyahu, rather than any significant progress on the issues facing the Middle East, according to Dennis Ross, a Mid-East peace negotiator for three presidents and author of the newly released Doomed to Succeed: The ­US-Israel Relationship from Truman to Obama.
"There's a kind of capstone quality to this for both of them," Ross said to the Washington Post. "Both the president and the prime minister have an interest in this meeting, at a minimum, to appear to go well."
The situation in the occupied territory of Gaza appears to be grim, with humanitarian aid groups warning that the situation is dire. In the area 1.8 million people are still trying to recover after Israel's 2014 bombing campaign that killed more than 2,140 and destroyed thousands of civilians' homes.
"There is a humanitarian crisis in Gaza especially when we talk about the medical community, the health system," Ran Goldstein, executive director of the Israeli group Physicians for Human Rights, told an audience of US congressional staff. "And since we don't see any policy changes, we are afraid that another war is just a matter of time."