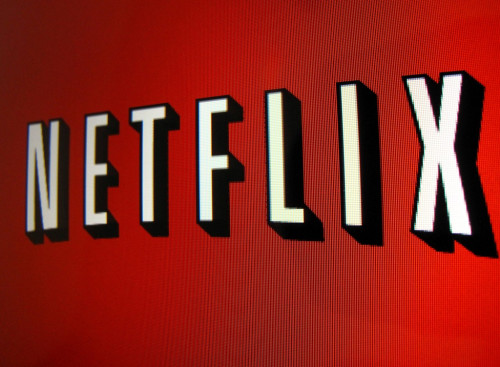 Netflix, the world's largest video streaming company, saw its shares surge over 17% in after-hours trading in New York, after it reported strong US subscriber growth during the fourth-quarter of 2013.
The stock, the best-performer in the S&P 500 in 2013, jumped more than 17% to $391.77, surpassing the record intraday trading high of $389.16 it struck last October.
Netflix said on Wednesday it signed up 2.3 million US households during the October-December period, alongside 1.74 million new customers in foreign markets, bringing its worldwide subscriber-base to 44.4 million.
The surge in subscriptions helped the firm rake in higher profits, smashing expectations.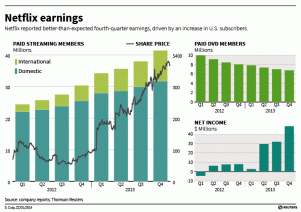 Net income for the quarter hovered at $48m, up from $8m a year ago. Earnings-per-share stood at 79 cents, Netflix said in a letter to shareholders, beating the 66 cents average forecast by a Thomson Reuters I/B/E/S poll of analysts.
Netflix also reported shrinking losses in its international markets, which include Canada, Latin America and seven European countries.
The company said it expected to add more US subscribers in the first quarter of 2014 than it did in Q1, 2013. It also said it expected to end Q1 2014 with 48 million subscribers the world over.
The company said in its letter to shareholders: "It's been a good year for Netflix. People around the world want what we offer: consumer-in-control Internet television.
"[In the US] we expect [the] momentum to continue in Q1 [2014] with net additions of 2.25 million to exceed the prior year by about 11%.
"[Outside the US], [for] Q1 of 2014, we are forecasting an almost 60% increase in net additions from the prior year, from 1.02 million to 1.60 million."
In its letter, the company admitted it had been experimenting with variations of the $8 monthly charge "at various price points."
Netflix said it "eventually" hoped to offer three pricing options "to fit everyone's taste."
Europe Expansion
Netflix also said it planned a "substantial European expansion" later in the year, but did not divulge into which markets specifically.
The company said "a prudent step" would be for it to raise "an additional $400m" in long-term debt. It raised $500m in 2013.
High-Flying Stock
Netflix soared 297.6% in 2013 as market players bet the Los Gatos, California-based company would continue dominating the subscription video market and add new customers who pay $8-a-month for unlimited streaming of movies and television shows.