The 27 May opening of parliament saw the announcement of the ninth anti-extremism bill since 9/11, cementing the UK's status as the country with more anti-terror legislation than any other in the western world. But far from harnessing a growing threat, the proposed legislation may have the opposite effect.
In her opening speech, the Queen announced that the bill would "promote social cohesion and protect people by tackling extremism," with proposed new laws allowing police to close down premises used by extremists, and extremism disruption orders allowing officers to target gatherings of those presenting an "active opposition to fundamental British values including democracy."
Yet since plans for the bill were first announced earlier this month, concern has been growing that far from tackling the problem of violent Islamic radicalism, the legislation will stifle the debate that allows violent extremism to be effectively challenged, and criminalise those who may oppose what many would consider core British values but offer no criminal threat.
Home secretary Theresa May was unable to define extremism in a recent radio interview, and Clive Walker, one of the country's leading experts on anti-terror legislation quipped that under the current definition even the SNP, hardly the staunchest defenders of Britishness, could be targeted.
"The danger with this type of legislation is [it simply closes] down legitimate channels and this will not close down communication; it will simply send it to darker places rather than dealing with it," said Walker, Professor of Criminal Justice Studies at Leeds University.
"I would rather we encourage people who harbour extreme ideas to voice them so that we can explain to them how stupid they are and how mistaken they are," said Walker.
In the wake of the 2013 murder of Lee Rigby by two Islamist extremists on the streets of Woolwich, London, the focus of UK anti-terror strategy shifted.
Instead of concentrating exclusively on tackling violent terrorists, cabinet level anti-terror task force Terfor (Tackling Extremism and Radicalisation Task Force) investigated the "extremists" and "hate preachers" alleged to play a key role in radicalising disaffected young Muslims.
For some though, the links between radical Islam and violent Islam are not clear cut as government rhetoric suggests.
"I am doubtful of the whole thesis on which this legislation is based: that there is some kind of pipeline from radicalisation to terrorism, there is a causative link between the two," said Professor Walker, citing a lack of empirical studies on the issue.
Anti-extremism legislation creates feeling of 'us and them'
Initially brought into the fold as part of the government's anti-terrorism Prevent strategy, the Muslim Society of Britain was at the heart of controversy in the late 2000s.
The organisation was condemned by then Communities Secretary Hazel Blears after refusing to attend Holocaust Memorial Day and signing the so-called Istanbul declaration in 2009, calling on Muslims to oppose by all means supporters of the the "Zionist enemy," with the UK having suggested providing naval forces to monitor arms smuggling into Gaza.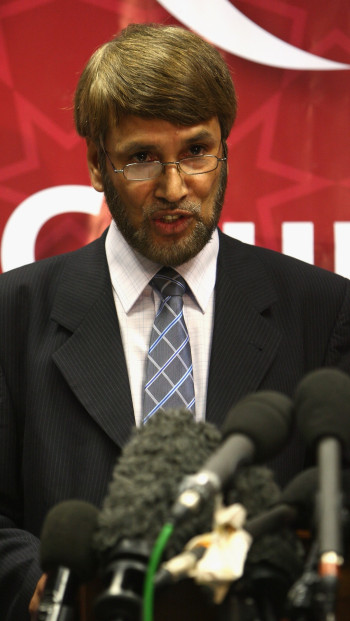 General Secretary Muhammad Abdul Bari himself faced criticism after a 2007 interview with the Daily Telegraph in which he described homosexuality as "unacceptable from the religious point of view".
The former physics teacher claims that as soon as he took position as secretary general, he was instrumental in overruling the organisation's decision not to attend Holocaust Memorial Day, and insists that though the Istanbul declaration was signed by a senior member of the organisation, it was in a non-official capacity.
He argues that there is no contradiction between British values and the socially conservative Muslim values of those like him who hold that though "homosexuality is a sin, homophobia is a crime and there is no room for discrimination and violence towards homosexuals."
"Any community can only succeed as a full part of wider society. If a community turns away from wider society I do not want any part of that. If it is a religious decision and does not hurt anyone it is [an individual's] personal choice. If they lead parallel lives and are not part of society they will not succeed," he told IBTimes UK.
For Abdul Bari, the new act risks worsening the 'us and them' mentality, with socially conservative Muslims cast as potentially dangerous 'hate preachers', and schools and nurseries required to monitor the comments of children for evidence of extremist sympathies.
"Treating a community in a very negative manner is not going to help our situation. We want a united society. Focussing on one minority in the community and seeing the glass as half empty is creating a feeling of 'us and them,'" he said.

He said that though there are extremists in the Muslim community "their voice is amplified by the media and the community feels they are being used as bogeymen to divide the community further."
Solution lies in "legal tolerance and civic intolerance"
Though standing at loggerheads with organisations such as the Muslim Council on how best to tackle the problem of violent extremism, the Quilliam Foundation has voiced its own criticism of the new legislation.
Haras Rafiq, Managing Director of the foundation, argues for a strategy of "legal tolerance, and civic intolerance."
"Just as I believe that groups like the BNP have the right to exist if they are not violent, similarly Islamist groups should have the right to exist; however, they should be challenged," he told IBTimes UK.

Rafiq argued that those who have left the country to join Isis share one thing: an adherence to Islamism, and many of the views held by conservative Muslims are incompatible with British values of tolerance and plurality.
"We need to treat Islamism in the same way that we treat fascism. We would expect society to tackle the ideas of BNP. Society needs to tackle this ideology, legislation will not," he said.
"Banning Islamist organisations does not work. If one is breaking the law he should be prosecuted, but we should use existing legislation that we have. They need challenging and debating."
Rafiq argued that most Muslims in the UK opposed Islamism, and that encouraging debate would help to combat the "victim mentality and conspiracy theories" that form a key part of the radicalisation process.
With record numbers of British citizens convicted under terror offences last year, half of them for offences relating to Syria, the government feels pressure to act, and to be seen to act.
Yet Professor Walker questioned the rush to legislate while we remain some distance away from a truly balanced understanding of the problem.
"As regards terror policy the important thing is to make sure that you are not simply trying to suppress messages but that you are answering messages, that there is a counter narrative and a dialogue encouraged," he said.
"There is often a rush to new legislation which allows a government to say we are on to this, we are proactive, instead of ensuring that the existing legislation, which is extensive, is being properly implemented."