New England Patriots quarterback Tom Brady suspended for 4 games by NFL in 'Deflategate'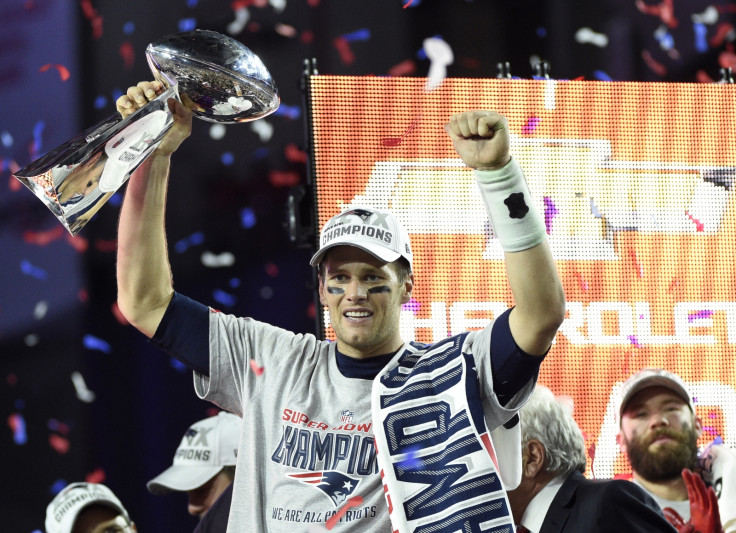 Patriots quarterback and Super Bowl MVP Tom Brady was suspended without pay for four games in the 2015 season for his alleged involvement and knowledge of deflate gate. Brady was officially found to have violated the National Football League policy on the integrity of the game.
According to a statement by the NFL on 11 May, the team will be fined $1m (£641,600) and will forfeit a first round draft pick in 2016 and a fourth round pick in 2017.
The punishment handed down by league commissioner Roger Goodell follows a report by independent investigator Ted Wells found that Brady "more probable than not" was "at least general aware of the inappropriate activities" of the deflated game balls used during the AFC Championship Game against the Indianapolis Colts.
"With respect to your particular involvement, the report established that there is substantial and credible evidence to conclude you were at least generally aware of the actions of the Patriots' employees involved in the deflation of the footballs and that it was unlikely that their actions were done without your knowledge," NFL executive president Troy Vincent wrote in a letter to Brady.
"Moreover, the report documents your failure to co-operate fully and candidly with the investigation, including by refusing to produce any relevant electronic evidence [emails, texts, etc.], despite being offered extraordinary safeguards by the investigators to protect unrelated personal information, and by providing testimony that the report concludes was not plausible and contradicted by other evidence," Vincent continued.
Discrepancies in punishment
Many fans and sports analyst have pointed out the discrepancies in punishments being handed down by the NFL.
In 2014, Baltimore Ravens running back Ray Rice was suspended for two games for assaulting and knocking his wife unconscious in an elevator. Rice was arrested in an Atlantic City casino after attacking his then-fiancée Janay Palmer.
After reports emerged that the NFL was aware of video footage of the assault, the league suspended Rice indefinitely. Rice later appealed the decision and won.
Another Baltimore Ravens player, linebacker Ray Lewis was fined $250,000 by the NFL in 2000 for his involvement in a murder case. Lewis was named a Super Bowl MVP in 2001.
Fellow Patriots quarterback Jimmy Garoppolo is expected to take the lead in the first game of the 2015-2016 season in 10 September game against the Pittsburgh Steelers. If Brady does appeal the punishment and remains suspended for four games, he will return when the Patriots face the Colts in Week 6.
© Copyright IBTimes 2023. All rights reserved.