The mugshot of a Californian gang member has seen her dubbed the latest 'hot felon', after the photo went viral on Facebook. Fans have been offering to pay her $100,000 bail.
Gang member Mirella Ponce was arrested during a routine traffic stop in Fresno after police said she had a stolen and loaded firearm in her possession.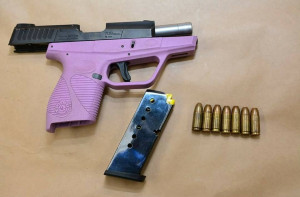 The tattooed 20-year-old was travelling with her infant child and two other members of the Tiny Rascal Gang, said the Fresno Police Department.
Ponce has been charged with carrying a concealed firearm and being in possession of a stolen firearm, which are both are felony charges. Another passenger was also arrested on an unrelated charge.
She is currently being held at Fresno County Jail, with bail set at $100,000.
Information about her arrest on Monday (23 October), her mugshot, and a photo of the lilac handgun she allegedly had in the car with her were shared on the Fresno Police Department's Facebook page.
Over the last two days her mugshot has gone viral generating nearly 4,000 shares, with many drooling over her looks while others have offered to pay her bail.
One man wrote: "The only crime she committed was stealing my heart."
Another comment reads: "Ima (sic) just go bail her out. Free this hot gangster chick."
A third comments: "What a shame though, she could of been a stripper or something with those good looks."
Tiny Rascal Gang is a California-based gang that is predominantly made up of Cambodian-Americans. The gang started in the 1980s and has an estimated 10,000 members across the country.
Ponce is not the only person behind bars to be branded a 'hot felon' in recent years. In 2014, Jeremy Meeks, also from California, was arrested on firearm charges and grand theft.
His mugshot went viral on social media earning him plenty of admiring glances, which led him to launching a modelling career when he was released from prison in September 2016. Meeks' current girlfriend is Chloe Green, daughter of billionaire Topshop retailer Sir Philip Green.