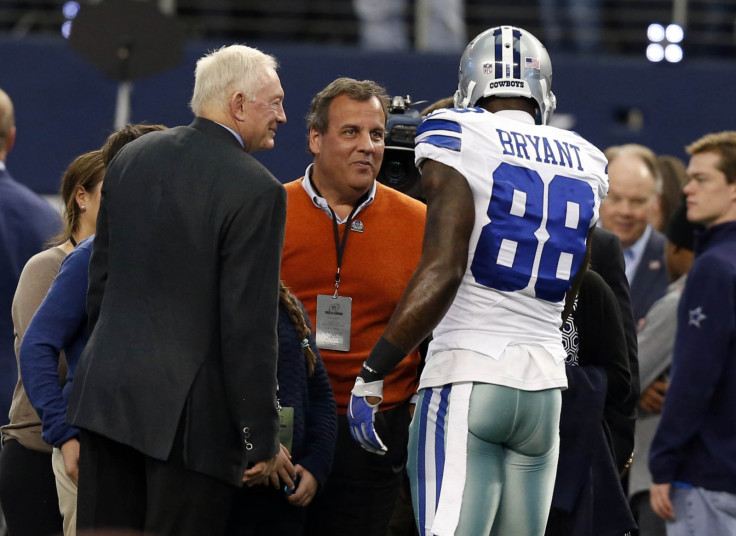 Football fanaticism might have cost US presidential hopeful Chris Christie a few votes, as the Republican governor of New Jersey was widely mocked online for a video in which he appears awkwardly celebrating a Texas team's victory.
Christie, 52, was in the box of Dallas Cowboys' owner, Jerry Jones, to witness the team's home success over the Detroit Lions.
The governor exploded into joy after the Cowboys scored a late touchdown to win 24 - 20. He was however left hanging by Jones after offering a high-five and then settled for an awkward hug, in a scene that was captured on camera and went viral online, drawing widespread mockery.
In particular, the clumsy celebration didn't go down well with football fans in Christie's home state and Michigan (Detroit's state), with some critics suggesting it might have jeopardised Christie's 2016 presidential bid.
The Dallas Cowboys are in fact long-standing rivals of New Jersey's two teams, the Giants and the Jets.
As the Twitter storm raged, Christie's brother Todd took to Facebook to defend the governor and his life-long support of the Cowboys.
"To all of those non Cowboy fans who have their panties in a ringer because the Governor of NJ is a Cowboys fan---GET A LIFE !!!," he wrote.
"The Gov has been a Cowboys fan for his entire life and ALL of you would sit with the owner of your favorite team in a heartbeat if given the chance ... I mean crazy pathetic posts."