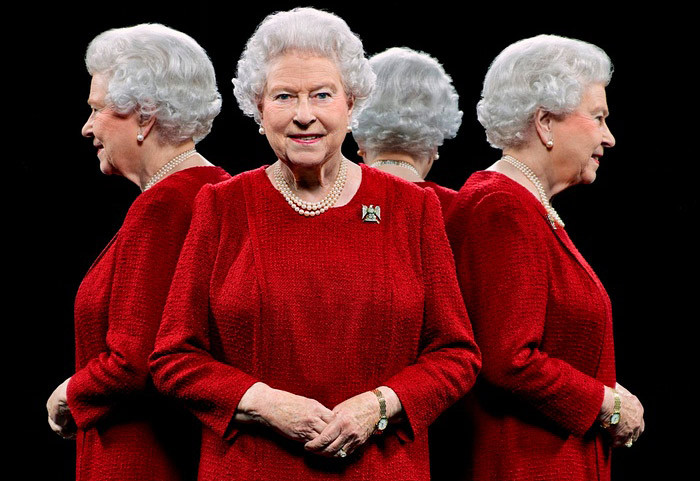 The royal family has released new portraits fit for the 21st century that show each member including the Queen from four different viewpoints. The portraits taken by society photographer Hugo Rittson-Thomas are a fresh revamp on the traditional 2D images usually associated with the Monarchy and were achieved with the use of multiple mirrors.
Rittson-Thomas said that during the shoot the Queen had put him at ease when there was a technical mishap: "The camera had a digital seizure but luckily I was about two-thirds of the way into the shoot but she was very calm and cool and put me at my ease.
"My brain had just frozen but she started talking to me and I was able to fix the problem in two minutes. The roles were reversed and she was the one putting the photographer at ease."
Prince William the Duke of Cambridge and Camilla the Duchess of Cornwall also posed for the photographer with each image to be part of the exhibition The Queen's People featuring members of the Royal Household and senior ceremonial figures in their uniforms. The images were inspired by a famous picture by Anthony van Dyck of Charles I that showed the king from three directions.
In the latest pictures the burgundy dress worn by the Queen was designed by her personal assistant Angela Kelly and features the Waterloo badge of the Royal Scots Dragoon Guards.
The Queen was photographed in 2013 at Windsor Castle during an event to mark the 60th anniversary of her Colonelcy of the Royal Scots Dragoon Guards.
The Queen has posed for several Royal photographic portraits including sittings for her former brother-in-law Lord Snowdon and for sixties snapper David Bailey. Rittson-Thomas has taken photographs of several powerful world figures including the Dalai Lama and David Cameron.