New South Korean President Moon Jae-in has ordered the country's military to be ready to respond to any potential provocation from North Korea. The order came soon after he officially began his term and took the oath of office in a ceremony at the National Assembly in the capital, Seoul on Wednesday (10 May).
The liberal leader has also hinted at visiting the hermit kingdom as early as possible under the right conditions to hold dialogues about Pyongyang's aggressive pursuit of nuclear and missile programmes.
In his first speech as the president, Moon vowed to "immediately" defuse tensions in the Korean peninsula.
According to local media reports, Moon was briefed about North Korea's military ability by the South's Joint Chiefs of Staff chairman Lee Sun-jin, whom the president has instructed to be fully prepared to ensure the safety of his country.
South Korea's military was ready to act at any moment should "the enemy engage in provocations", Lee responded to Moon, according to the Yonhap news agency. Moon and Lee held a telephonic conversation on Tuesday, soon after the election results were officially announced.
Speaking during his swearing-in ceremony, Moon said that he would "sincerely negotiate" with the US and China over the deployment of the Terminal High Altitude Area Defence (Thaad) system near Seoul. The US is South Korea's major ally, while China is its top trading partner. In the recent times, all the three countries are being inter-dependent on each other to counter the belligerent North Korea.
"I will quickly move to solve the crisis in national security. I am willing to go anywhere for the peace of the Korean Peninsula — if needed, I will fly immediately to Washington. I will go to Beijing and I will go to Tokyo. If the conditions shape up, I will go to Pyongyang," Moon said without elaborating further. Moon's victory comes amid political unrest in South Korea following the impeachment of the former conservative president Park Geun-hye.
During his campaign, Moon had vowed to push for denuclearization and restore engagement with North Korea through diplomatic efforts. However, experts warned that his conciliatory approach towards Pyongyang could face tough hurdles.
The inter-Korean relations frayed for almost a decade under the conservative governments of the ousted leader Park Guen-hye and her predecessor Lee Myung-bak.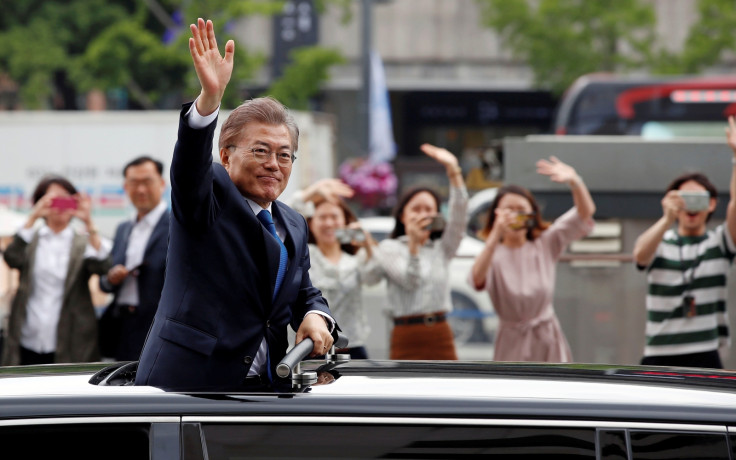 Moon's idea of a visit to Pyongyang would be a sharp departure from the previous South Korean government's stance on further isolating the rival neighbour with stricter sanctions.
Former liberal president of South Korea Kim Dae-jung and his successor Roh Moo-hyun had pursued an engagement policy with North Korea for a decade from 1998 to 2008. The period saw some inter-Korean reconciliatory projects.
Moon, who was a chief of staff under Roh, is widely expected to continue on his liberal leaders' path to improve ties between the two Koreas.
"Moon will be willing to hold dialogue with North Korea. I believe North Korea's halt to refining its nuclear program would be a starting point from which Moon could implement his North Korea policy," Kim Yong-hyun, a professor of North Korean studies at Dongguk University told Yonhap.