South Korean military on high alert as North Korea calls for peace and 'new era of unification'
Seoul goes to the polls on 9 May to choose a new president to replace Park Geun-hye.
South Korea has placed its military on high alert ahead of its presidential elections, just as its North Korean neighbour has called to put an end to the decades-long "inter-Korean confrontation." Pyongyang has suggested that Seoul pave the way for a "new era of unification" to maintain peace between the two sides.
Voting will open on 9 May to choose a new president to replace Park Geun-hye, who was impeached over corruption charges.
The official newspaper of Pyongyang's ruling Workers' Party, the Rodong Sinmun, on Monday (8 May) blamed the conservative South Korean government for the current state of relations between the two Koreas.
"The history of inter-Korean confrontation, led by the conservatives, should be put to an end and a new era of unification should open up in collaboration between our race."
The conservative Liberty Korea Party, previously known as the New Frontier Party, has been ruling South Korea for 10 years. Pyongyang urged South Koreans not to vote for the conservative government again as it has been wary of Park and her predecessor Lee Myung-bak's way of handling issues related to the isolated country.
"To that end, the conservative groups' scheme to seize power again should be resolutely shattered," the newspaper said.
"The tragic North-South Korea relations today have been wrought by the conservative groups which, having been in power for the past 10 years, revived the foregone period of confrontation and maximized the political and military rivalry between the same race," it added.
The newspaper column went on to accuse the administrations of Park and Lee of ruthlessly trampling North Korea's longing for peace in the Korean peninsula.
"Our people's yearning for peace has been mercilessly trodden by the conservative groups, manic followers of confrontation," it said.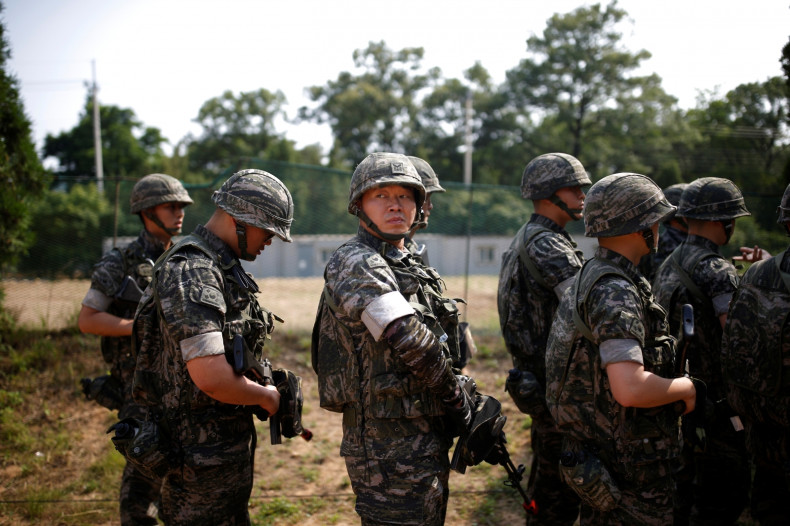 The article was a slight shift from its usual sabre-rattling in recent times. However, it has been in line with the Kim Jong-un regime's repeated attempts to influence the South Korean presidential election.
With tensions running high in the region, this year's election comes with an additional challenge to Seoul as the soon-to-be-elected president is likely to start office with pressure to lower the temperatures in the Korean peninsula.
The last poll before the election showed Moon Jae-in of the Democratic Party as the front-runner. If Moon gets elected, he may likely tilt towards engagement with Pyongyang — a major departure from the sanctions-focused policy by Park and Lee's government, Yonhap reported.