Nearly three million South Koreans have voted about eight hours after early voting began on Thursday (4 May) to South Korea's presidential elections scheduled for 9 May, to replace ousted President Park Guen-hye.
For decades South Koreans have voted for presidents who can handle fraught diplomatic relations with major economies. Previous presidents have faced the challenges of balancing the demands of China, which is South Korea's biggest trading partner, and the US – the country's chief ally.
With North Korea stepping-up sabre-rattling in recent times, South Korea's soon-to-be-elected president is likely to start office with pressure to lower the temperatures in the Korean peninsula.
Plea of North Korean defectors in South Korea
A group of defectors from North Korea on 3 May made a plea to South Korean voters asking them not to elect the front runner in the presidential election, Moon Jae-in. They claimed their lives would be in danger if Moon comes to power.
"If candidate Moon Jae-in is elected a team of North Korean assassins could frequently come to South Korea to kidnap or murder defectors. This poses a life-threatening risk to us," the defectors said in a joint statement, according to the BBC.
The group argued in the National Assembly in Seoul that Moon was involved with a previous government that maintained closer ties with North Korea. They fear if Moon gets elected as the South Korean president, he might try and re-establish contacts with North Korea.
Why elections are being held now?
South Korea has been plunged into political turmoil after Park was impeached on accusations she colluded with a friend to collect bribes from big conglomerates. She was formally indicted by prosecutors in April for multiple charges, including bribery, sending her case to a criminal court. The corruption scandal makes Park South Korea's first democratically elected president to be forced to quit office.
US-South Korea relations amid North Korea tensions
This year's election also comes with an additional challenge to South Korea – diplomatic ties with the US under President Donald Trump's administration.
While Trump has supported the deployment of the US' Terminal High-Altitude Area Defense (Thaad) missile system, he has also demanded that South Korea pay for the missile defence and put a price tag of $1bn to it. Much against China's opposition, the US military started deploying the anti-missile defence system in early March in a bid to help Seoul intercept Pyongyang's ballistic missiles and defend itself against a potential missile attack from the isolated country.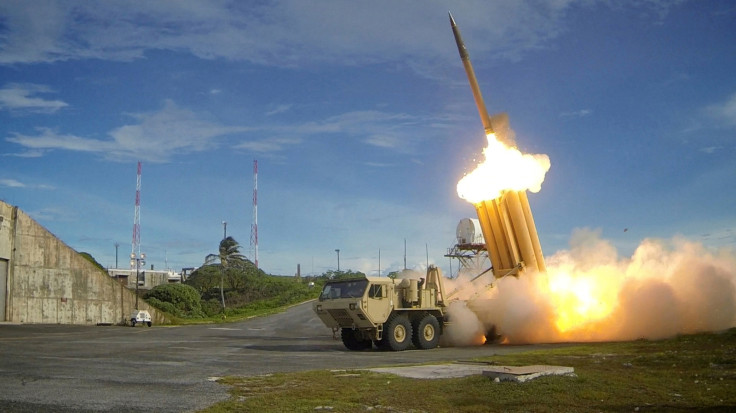 However, the American president also said that he might be interested in meeting North Korean leader Kim Jong-un – which is reported to be seen as a mixed signal on Trump's approach to the tensions in the Korean peninsula. In addition, he also described Kim as a "smart cookie".
The Thaad deployment has become a major topic of discussion in South Korea's ongoing presidential race.
Top presidential candidates and their road ahead
Moon Jae-in, 64, Democratic Party of Korea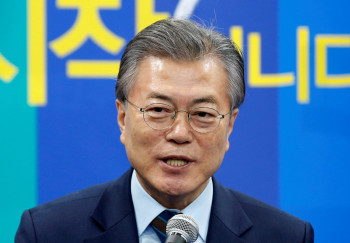 Moon, a human rights lawyer, is the front-runner in the elections, leading the opinion polls by a wide margin. A former student activist, Moon has voiced his support to South Korea's alliance with the US.
However, he has strongly opposed the deployment of Thaad. According to him, the deployment was strongly regrettable and that it stripped the next Seoul government of its right to decide on its own about the defence system. He also snubbed Trump's suggestion that Seoul pay for Thaad.
Moon has said that South Korea needs to have a more balanced diplomatic approach towards China and the US.
He is also critical of Seoul's current approach towards containing Pyongyang. He has argued that sanctions alone will not help to bring North Korea's nuclear and missile programs to an end.
Ahn Cheol-soo, 55, People's Party
The 55-year-old centrist and founder of the People's Party initially opposed the deployment of Thaad. However he later said it would be "irresponsible" to change the agreement made by the previous government, which the critics view as his attempt to persuade voters who support the deployment.
Ahn is seen as a serious contender to Moon, but the latest surveys have shown his popularity declining.
He has strongly opposed North Korea's missile activities and refused to recognise the hermit kingdom as a nuclear power.
"If the North is about to launch a nuclear attack, we should first strike the source of attack," he told the Strait Times recently.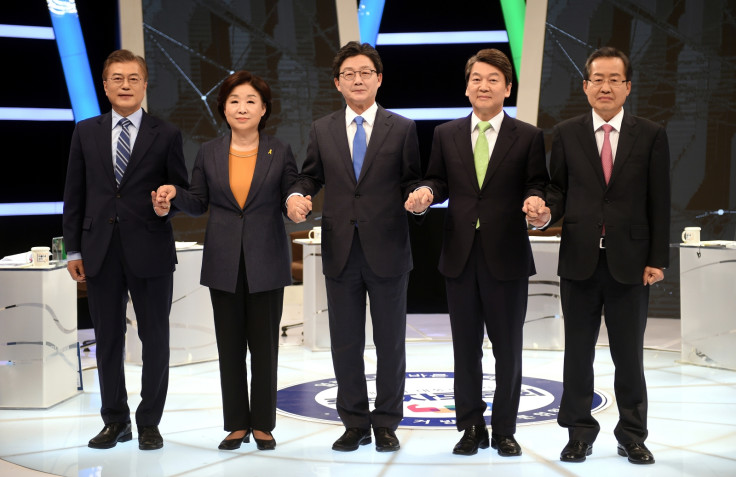 Hong Joon-pyo, 62, Liberty Party of Korea
Hong, 62, is a brash ex-governor and former prosecutor of South Korea. He is the flag-bearer for South Korea's embattled ruling party. Media reports have compared his rhetoric to that of Trump's.
He has described himself as a true representative of the conservatives after Park was impeached.
Hong has claimed that he would order the first executions in the country in nearly two decades, triggering angry responses from many South Koreans with his view on social issues by announcing a crackdown on homosexuality. He also received criticisms for saying that "washing dishes is women's work."
With respect to the North Korean tensions, he said he would propose a summit meeting with Trump "on board the Carl Vinson", the American aircraft carrier which is sailing off the Korean peninsula.