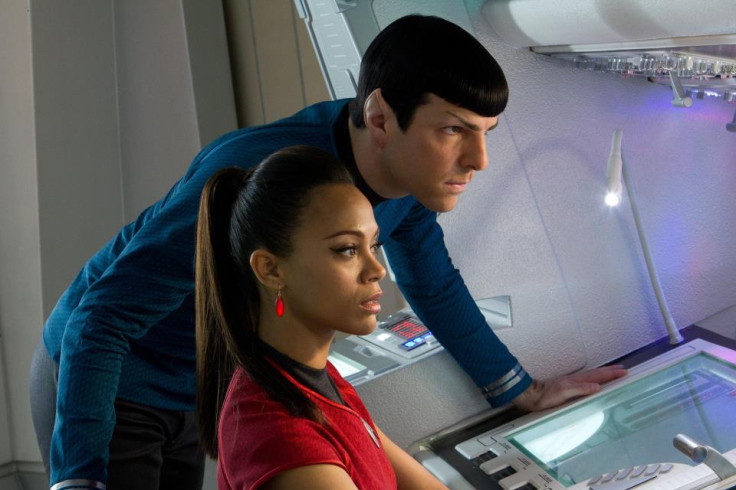 There are rocky times ahead for Lieutenant Uhura and Commander Spock in the upcoming movie Star Trek Beyond. In a new clip, Uhura breaks up with Spock, returning a necklace which belonged to his late mother.
As the Enterprise's communications officer takes off the necklace and tells him, "I think you should have this back!" Spock replies, "It is not in the Vulcan custom to receive again that which was given as a gift."
Uhura, saying nothing, gives him a peck on the cheek and departs, leaving Spock confused.
Dr Leonard 'Bones' McCoy, who was eavesdropping on their conversation, sarcastically asks, "You guys break up? What did you do?"
A stern Spock replies, "A typically reductive inquiry doctor!"
Following this, McCoy gives Spock some advice on human women. He explains, "You know Spock, if an Earth girl says, 'It's me, not you,' it's definitely you!"
The plot of the 2016 movie will pick up two years into the Enterprise's five-year mission of exploration. The official plot description reads as follows:
After stopping off at Starbase Earhart, a remote outpost on the fringes of Federation space, the USS Enterprise, halfway into their five-year mission, is destroyed by a powerful, unstoppable wave of unknown aliens. With the crew stranded on a unknown planet and with no apparent means of rescue, they find themselves in conflict with a new ruthless enemy who has a well-earned hatred of the Federation and what it stands for.
The film's cast includes Chris Pine (Captain Kirk), Zachary Quinto (Spock), Karl Urban (James McCoy), Zoe Saldana (Uhura), John Cho (Sulu), Simon Pegg (Scotty), Anton Yelchin (Chekov) and Idris Elba (Krall).
Directed by Justin Lin, known for directing three of the Fast & Furious franchise, the third film in the relaunched franchise is produced by JJ Abrams, Roberto Orci, Lindsey Weber and Justin Lin, while Jeffrey Chernov, David Ellison, Dana Goldberg and Tommy Harper are executive producers.
Star Trek Beyond opens in theatres on 22 July.