Star Trek Beyond, the upcoming fantasy/science fiction film, will feature the return of fan-favourite characters such as Captain Kirk, Spock, James McCoy and Uhura as they embark on a new adventure in the USS Enterprise.
Warning: Potential spoilers ahead
The crew, this time around, would explore the furthest reaches of uncharted space, where they will encounter a mysterious new enemy, who will put them and everything the Federation stands for, to test. Star and co-writer Simon Pegg recently shared a few plot details about the upcoming movie in an interview with Empire Magazine .

According to Pegg, the movie will pick up two years into the Enterprise's five-year mission of exploration. "They've come to rest at a Federation outpost, a sort of diplomatic hub," he said. The co-writer said that the team's momentary rest will be interrupted by Idris Elba's blue-faced alien antagonist Krall, who will unleash violence upon the Enterprise and its crew.
Questions driving the crew during the movie are, "We're gathering a great community within the galaxy, but to what end? What does it all mean?"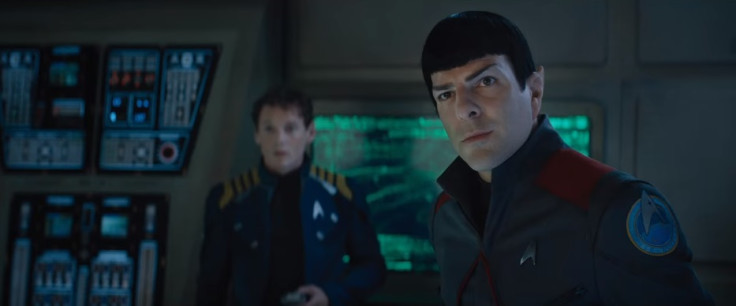 Meanwhile, director Justin Lin added that the movie will deconstruct the idea of the Federation. "This is the 50th anniversary. I felt like it was important to really deconstruct the idea of Star Trek, the idea of the Federation and why it's special. We'll really be poking at a lot of different things."
Lin, who took over directorial duties from JJ Abrams for the third movie in the franchise, also announced that the final trailer featuring never-seen-before footage will be part of a fan event celebrating the 50th anniversary of the series created by Gene Roddenberry. The event will start at the historic Paramount Pictures studio lot in Hollywood, California, and the cast and crew will join Justin Lin for a Q&A session and the event will be live streamed via Facebook.
"As a lifelong fan of Trek, we wanted to do something special for the fans and we couldn't think of a better way to do that than creating an event dedicated to them in the year that we also come together to celebrate the series' amazing 50th year," Lin said.
Star Trek Beyond will hit theatres on 22 July 2016. The cast includes Captain Kirk (Chris Pine), Spock (Zachary Quinto), James McCoy (Karl Urban) and Uhura played by Zoe Saldana.