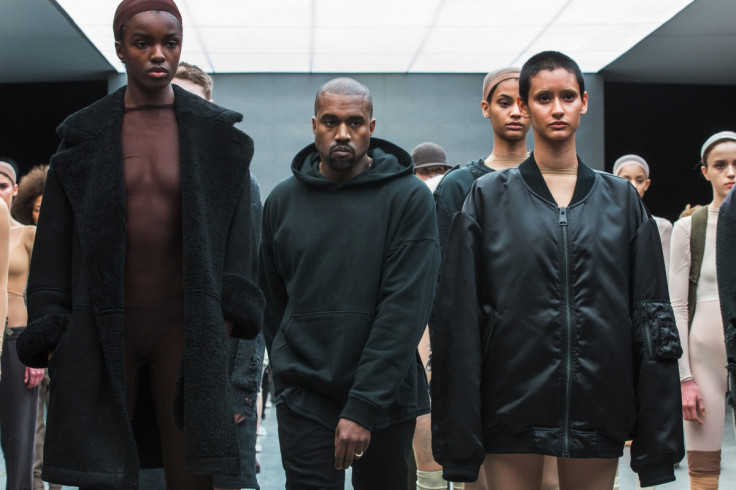 As hard as he tries, rapper Kanye West continues to struggle in the fashion stakes. The All Day hitmaker debuted his Yeezy season two collection with Adidas at New York Fashion Week 2015 but the collection failed to impress critics who have completely ridiculed the wannabe designer on social media.
Held at a basement studio in Chelsea, the last-minute show was shrouded in chaos as celebrities such as Drake, Anna Wintour, Courtney Love and some of West's family members including wife Kim Kardashian and daughter North, made their way through a swarm of paparazzi to take their seats on the front row.
The military-inspired presentation, which was directed by artist Vanessa Beecroft, featured the models wearing a selection of West's beige coloured hoodies, bomber jackets, loose-fitting t-shirts and over-sized knitwear. Similar to his showcase for Yeezy season one in February 2015, the rapper's sister-in-law Kylie Jenner was among the models showing off the new line with her friend Bella Hadid joining her on the runway.
Clearly, the 38-year-old designer is proud of his work however, many feel the spring/summer collection is too similar to his first collection with Adidas while others have compared the designs to concentration camp uniforms and even the shredded clothes worn by zombies in TV series The Walking Dead.
One critic tweeted: "Kanye west's new fashion line is actual concentration camp. Actual," while another chimed in: "I thought Kanye is a fashion God...but this line of his is garbage." Completely baffled by the direction of the collection, one Twitter user remarked: "Someone explain Kanye's clothing line to me, I don't get it lol like why are they rags," and another quipped: "Kanye a genius I can't lie but that man really has y'all dressing like you're homeless or you belong on the set of the Walking Dead."
Despite the lukewarm reaction to the line, West has received plenty of support from his family with his wife Kim, 34, writing on Instagram: "Congrats to my baby for a crazy sick show!!!! #yeezy #adidas." A release date for when season two will hit stores is yet to be announced.