New York State Police has announced the launch of a new mobile phone app for citizens to report suspicious activity as security remains heightened in the wake of the Paris terrorist attacks ahead of the annual Thanksgiving Day parade.
The app, called See Something, Send Something, allows users to send photos and text messages of anything they find suspicious to the state's division of Homeland Security and Emergency Services.
"It's free, easy to install and the app actually gives you some tips on what might be suspicious behavior stuff that you should report," New York State Police Superintendent Joseph D'Amico said.
The app was released on 23 November three days before millions of New Yorkers and tourists are expected to line the streets for the parade. The event is taking place soon after Islamic State (Isis) released a video of New York juxtaposed with a scene depicting a suicide bomber preparing for an attack.
The same day the video was released the Mayor of New York, Bill De Blasio, took to the streets to encourage residents to go about their business as normal while remaining watchful. "There is no credible and specific threat against New York City," said the mayor.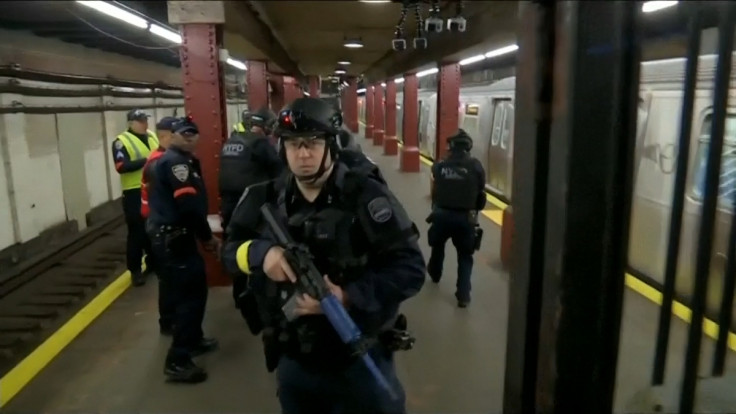 Security efforts around the Thanksgiving holiday in New York will be bolstered by a new counter-terrorism unit, Critical Response Command, that includes more heavily armed officers. Police officers will be added to the city's busiest public transportation spots, including Grand Central Terminal and Penn Station, to guard against attacks.
But residents have mixed feelings about the increased security in the city and around the world. "I want to travel to Jamaica, but I can't now, I'm scared. So I won't be travelling there," one woman told Reuters.
"I do of course (worry), especially after what's happening in Paris and all of that. But sometimes it can get too... like the hype can get people too scared and not enjoy the holidays," said another man.
"I think in general Homeland Security does a really good job. I'm not that worried about it. And you really can't worry about it because if it's gonna happen, it's gonna happen. You gotta live your life. Like they said, we can't let the terrorists win," another woman added.
Some have taken to social media to say they would skip the parade this year in light of the new threats. It is now 14 years since 9/11, the largest major terrorist attack on the US, in which 2,996 people were killed when four al-Qaeda agents crashed passenger airliners into the World Trade Center, the Pentagon in Washington DC and Pennsylvania.