At least eight people are dead and more than 12 injured after a terror attack in New York.
A lone suspect identified as Sayfullo Saipov, 29, from Florida, deliberately plowed a rented truck into a bicycle path striking cyclists and pedestrians in lower Manhattan on Wednesday (31 October) at around 3pm.
President Donald Trump has posted his reaction to the incident tweeting: "In NYC, looks like another attack by a very sick and deranged person. Law enforcement is following this closely. NOT IN THE U.S.A.!"
Mayor Bill de Blasio called the incident a "cowardly act of terror" on the streets of New York.
"This as a tragedy of the greatest magnitude for people of New York," he said at a press briefing. "We have been tested before as a city and New Yorkers will not give in to these type of actions. We will be undeterred. "
The governor of New York Andrew Cuomo said the city was a target because it is an "international symbol of freedom and democracy", but he said defiantly " we are not going to let them win."
He condemned the opportunistic attack confirming that there is no evidence to suggest there is a wider plot ongoing, as he urged New Yorkers to "go and be New Yorkers and Live your lives" as normal.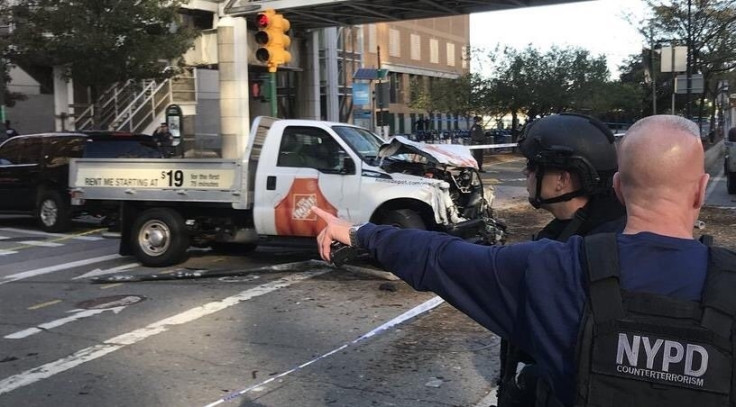 U.S. Senator Chuck Schumer, released a statement expressing his gratitude to the first responders.
"First and foremost our thoughts are with the victims and their families," he said. "As one of thousands of New Yorkers who regularly rides on the path where this attack took place, I'm particularly grateful to the NYPD and first responders who work day in and day out to keep us safe, and to those that responded to the scene today.
"As the investigation unfolds, it's critical that we learn what we can from this incident and do everything we can to prevent this from happening again. The scourge of terrorism is unfortunately still with us, and we must remain vigilant as ever."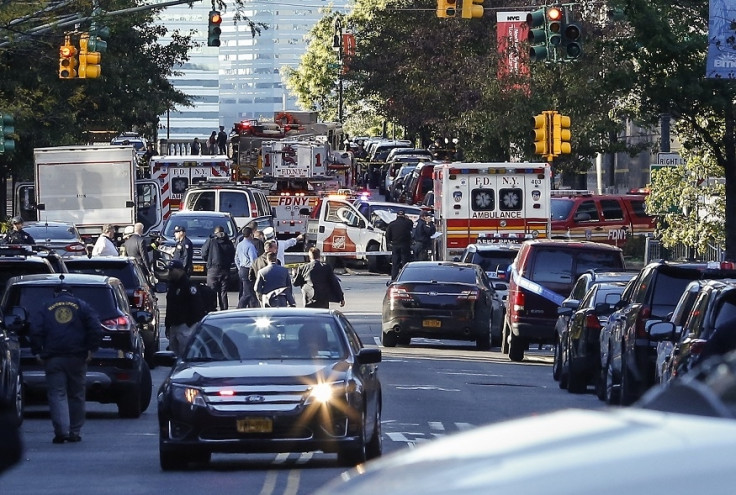 The driver of the white rented flat bed truck has been named as 29-year-old Sayfullo Saipov, who was armed with a pellet gun and an imitation weapon described as a paintball gun. The vehicle sped along a bicycle path close to where parents were collecting children from two nearby schools. Police Commissioner O'Neill said two adults and two children were injured when the truck hit a school bus.
Eyewitnesses said the driver crashed the vehicle and was screaming and in a panicked state" as he got out of the truck. It has been reported that he was heard shouting "Allahu Akbar" prompting police to treat the attack as a terror incident.
The suspect is in custody after he was shot in the abdomen by a police officer who happened to be on duty in the vicinity. The officer is being hailed a hero for intercepting the suspect before he was able to wreak more carnage. The driver is in hospital receiving treatment.
The First Lady Melania Trump expressed her concern for the people of the city tweeting: "My heart breaks for#NYC today."
On Twitter New Yorkers have expressed their dismay at the attack which occurred close to a 9/11 memorial, bringing back memories of the atrocities of what was the most deadly terror attack on US soil in recent memory.
In defiance at the latest terror incident to strike the US the New York Police Department and fire department have said the Halloween parade which is held annually in New York will go ahead, as planned. Tens of thousands of people are expected to take to the streets where counter-terrorism police and vehicle blocking devices will be deployed in the wake of the latest terror incident.
World leaders have offered their condolences to the citizens of New York. Canadian Prime minister Justin Trudeau said Canadian authorities are "monitoring the situation in New York."
In a statement the Mayor of London said "the UK stands in solidarity with New York" as he praised New Yorkers for their strength and resilience.
Celebrities and residents of New York have also been taking to social media to show their support for the victims.