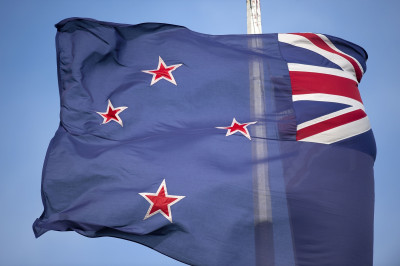 New Zealanders are vote to decide whether the country should change its current flag, dropping the British Union Flag for a 'more Kiwi' emblem.
Prime Minister John Key announced a double referendum that, he hopes, will give the antipodean country a new national flag by within two years.
"Our flag is the most important symbol of our national identity and I believe that this is the right time for New Zealanders to consider changing the design to one that better reflects our status as a modern, independent nation," Key said.
According to the plan unveiled by the centre-right leader, a parliamentary committee has come up with several possible alternative designs. Kiwis will then choose their favourite in a first ballot next year.
The winner is to go up against the current flag, which was first used in 1869 and features the Southern Cross star constellation on a blue background with the Union Flag in the top left quarter, in a second referendum in 2016.
The prime minister said the double vote is to cost about 26 million New Zealand dollars (£13m).
Key, who was re-elected for a third term in September, first announced his bid to change New Zealand colours in March, saying he wished the country to adopt the silver fern on a black background emblem made famous by the nation's all-conquering rugby union team.
The prospected change is a divisive matter amid residents. Advocates of the change claim New Zealand's flag gets frequently mixed up with that of neighbouring Australia and is tied too closely to a now distant colonial past.
Others, including many war veterans, argue change would dishonour the memory of those who died under the banner.
In an opinion poll in February, 72% of people opposed ditching the current flag. Another poll in March, however, suggested a more level scenario with 52.6% against the change and 40.6% in favour, with a few undecided.