Now this is the wedding of every Star Wars fanatic's dreams.
Newlyweds Allen and Jessica Bricker surprised guests at their white wedding by pulling out two lightsabers – weapons of a Jedi in the epic space saga – for an impressive lightsaber battle in place of their first dance.
When the two lifelong Star Wars fans realised they couldn't have their wedding on 4 May – widely recognised as Star Wars Day – they opted for the next best thing.
Allen, 32, and Jessica, 26, delighted their party guests with the hilarious duel at their wedding reception held in Hoagland, Indiana following the ceremony on Saturday (5 May).
The bride's brother, Jeremy Williams, and one of the groomsmen, Travis Barnes, caught the hilarious battle on tape, which has now gone viral on Facebook.
The couple spent month's preparing their wedding day moves and choreographed it all by themselves, and ended the fight with a kiss.
On the hilarious idea, Allen said: "We wanted to get married on May the Fourth, but Jessica's mother wasn't having a Thursday wedding, so May 6 was the best we could do.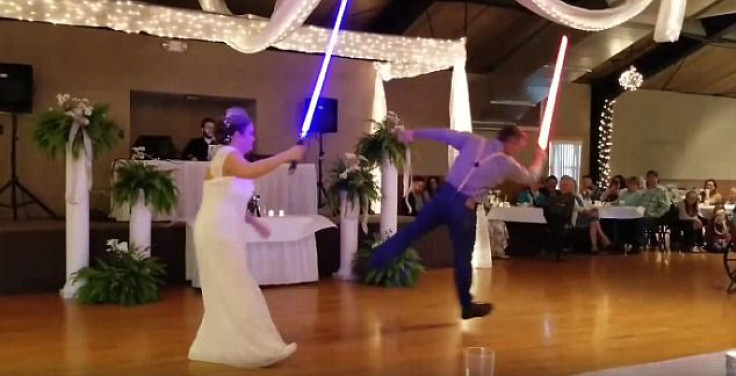 Watch the clip:
"Jessica and Allen can be seen at the beginning of the videos captured by their loved ones staring each other down, with Jedi Knight weapons in hand, before Jessica beckons Allen closer to start the choreographed fight," MailOnline reports.
While Jessica added: "'It took us a couple of weeks to put it together,' Jessica said. 'We practiced it for months. We knew if we were gonna do it, we were gonna do it right."
And the couple managed to keep the planned duel a secret from friends and happy, with Jessica continuing: "We accidentally told my parents one night at dinner but I don't think they believed us."
Facebook users have gone wild for the clip, with one viewer commenting: "Seriously you guys are amazing ! Can't love this enough !!!" as another wrote: "May all their fights be this comical".