In the past couple of days, there have been several reports on the Motorola-manufactured next Nexus smartphone. Dubbed as Nexus X, the device will reportedly feature a 5.9in screen and is expected in October-November timeframe. Reports now hint that a new Nexus smartphone is on the way.
Meanwhile, there were several leaks that suggested the existence of a HTC-manufactured Google Nexus tablet with 8.9in screen. Now a new disclosure has revealed the processing power of the Nexus tablet.
A CPU-Z leaked screenshot, which has been shared by TKtechnews, claims that the Nexus tablet will be powered by a 64-bit Tegra K1 processor, fixed at clock speeds up to 2.5GHz and paired with 192-core Kepler graphics unit. Meanwhile, PhoneArena has confirmed the veracity of the leaked information.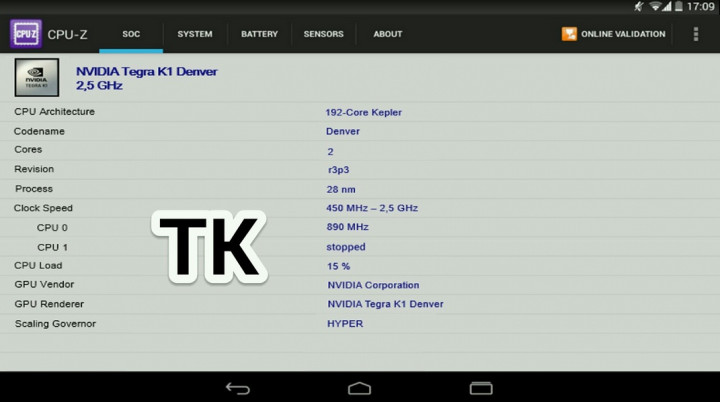 This is not the first time Nexus 9 is rumoured to be using a 64-bit Tegra processor. Prior to this, Upleaks confirmed the use of a similar powerful processor via Twitter last month. The Tegra processor is likely to integrate 4GB RAM.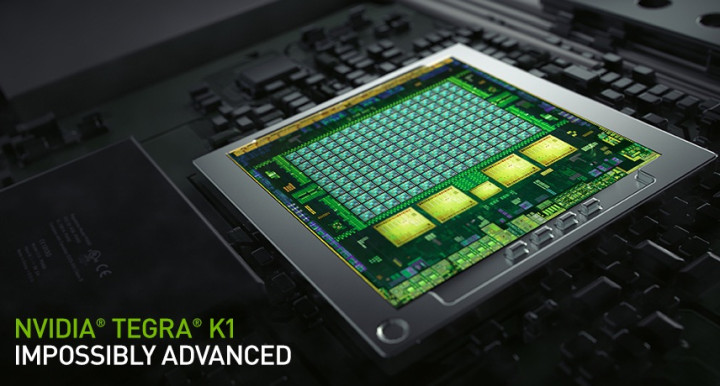 Nvidia has mentioned that Tegra K1 is the first SoC to support the new kepler graphics chip. It is 1.5 times more efficient compared to other mobile GPUs and will not drain the battery life. The chip is capable of running the Unreal Engine 4, supports DirectX 11 and OpenGL 4.4.
Wi-Fi certification: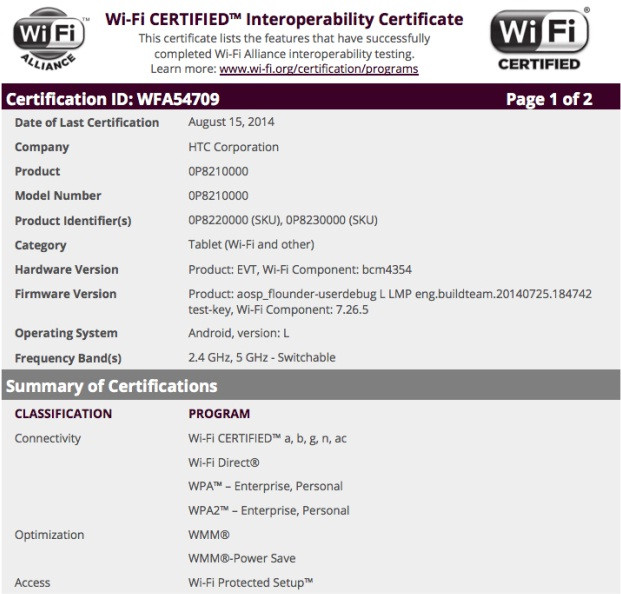 The HTC-made Nexus tablet has recently received Wi-Fi certification, according to a leaked document at Wi-Fi Alliance, reports BGR.
According to the listing, an HTC tablet bearing model number HTC0P8210000 will support Wi-Fi a/b/g/n and run Android L version noted as 'LMP', which is the abbreviation for Lemon Meringue Pie. Other than this, the document does not reveal other information but the listing of Flounder, which is the codename of Nexus 9 aka Voantis.
Additionally, Upleaks has also tweeted that the HTC T1 will be released before 9 October.