Nexus 9 Rumour Details: Release Date, Specs, Camera, Unibody Aluminium Design and Much More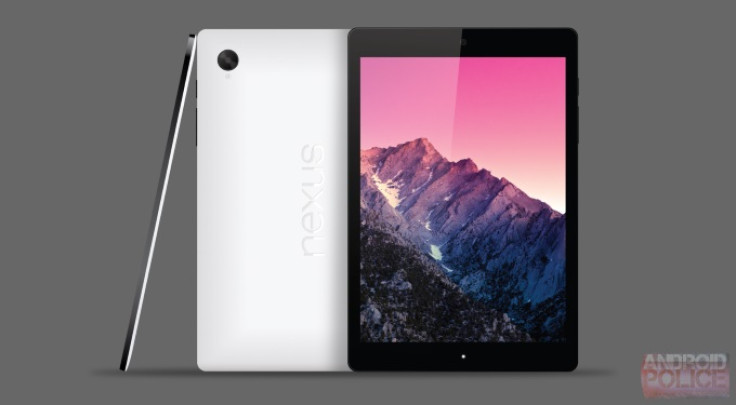 The Google Nexus 9 is easily one of the most anticipated tablets of 2014. Rumours and reports have it that Google has partnered with HTC to make the latest iteration of the Nexus tablet. This comes as good news since HTC is known for its extremely well designed smartphones (HTC One M8 and E8) and has been offering some of the highest quality products in recent times.
Like every other Nexus device before it, the Nexus 9 will have some usual suspects, which include a powerful performance package, an affordable price tag, the latest version of Android (Android L in this case) and a combination of potent and durable design.
Here's everything that we know so far.
Nexus 9 Design and Dimensions
The Nexus 9 is expected to be an 8.9-inch Android tablet, thereby allowing it to directly compete with Apple's entire range of tablets and several contenders from Samsung. According to PhoneArena, the expected dimensions are 8.91 x 5.98 x 0.31 inches (226 x 151 x 7.9mm), with a weight of 418 grams.
Given that HTC is taking up this project, rumours have it that we can expect a gorgeous unibody aluminium design, something similar to the HTC One M8 smartphone. Another popular HTC trait on the Nexus 9 will be dual front-stereo speakers.
Nexus 9 Display
Rumours indicate that the Nexus 9 could get a display similar to the sharp QHD resolution (2560x1600) display on the Nexus 10. This could amount up to a 340ppi, which would mean solid visuals and excellent depth. As far as display type is concerned, we expect the tablet to sport an IPS LCD display, something that both Google and HTC use a lot.
Nexus 9 Specs
Recent developments have shown evidence of the Nexus 9 using NVIDIA's Tegra K1, which should propel Android into the 64-bit era. This uses a 2.5GHz processor with up to 4GB of RAM and a graphics unit that sports no less than 192 cores, according to PhoneArena. All in all, this happens to be an extremely powerful processing package that is capable of some powerful gaming if required. It should boast 16GB and 32GB on-board storage options.
Nexus 9 Camera
The Nexus 9 is rumoured to have an 8 megapixel camera in the rear with OIS. The front camera will be a more humble 2 megapixel or 3 megapixel shooter. HTC is expected to arm the tablet with a good imaging package for decent video chats and good rear-camera images and video.
Nexus 9 Operating System
Easily the most exciting aspect for any Android user, the Nexus 9 should continue Google's tradition of being the first tablet on the market with the latest version of Android on-board. Users should expect a silky-smooth experience with stock Android L along with 64-bit support. Expect a complete visual redesign with new functionality, redesigned UI, gorgeous new wallpapers and themes, and much more.
Nexus 9 Release Date
Google is expected to release the tablet during the third quarter of this year, meaning that we could see a reveal during the end of October 2014. The Wall Street Journal, citing sources familiar with the matter, claims that Google has selected HTC over other manufacturers for its upcoming tablet. It is worth noting that even though the more popular Nexus smartphones came from Samsung and LG, the first Google Nexus One was built by HTC in 2010.
© Copyright IBTimes 2023. All rights reserved.