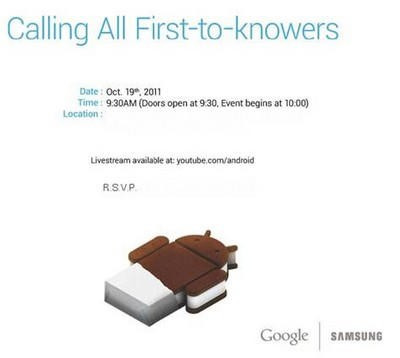 With Samsung's "something big" unveiling just two days away and speculation on a new grudge match between the company's Nexus Prime and Apple's iPhone 4S, the IBTimes gives you a full round-up of all the latest Nexus Prime rumours.
The Event
According to a report from Reuters, Samsung revealed that the latest version of Google's Android OS, Ice Cream Sandwich, will be unveiled in Hong Kong Wednesday.
Since news of the new unveiling broke, analysts and consumers once again speculated that the Google Nexus Prime smartphone will also be unveiled alongside the new OS.
"We are unpacking our new Android phone in concurrence with Google," a Samsung spokesman said Friday.
Prior to the new date, the two products were expected to appear at Samsung's Unpacked event. But Samsung postponed the event, scheduled for last Friday, officially out of respect for archrival Apple's deceased co-founderSteve Jobs.
The Nexus Prime
Despite the lack of official word, a number of tech sites have posted reports claiming to have "leaked" information not only confirming the device's debut Wednesday but also regarding its tech specs.
Most recently a report from CNET UK suggested the Nexus Prime will run using Google's future Ice Cream Sandwich Android operating system. CNET's report also suggested the device would be "blazingly fast," packing a 1.5GHz Exynos dual-core processor, 1GB of RAM and house a curved 4.65-inch 1,280x720-pixel Super AMOLED Plus touchscreen.
Apple iPhone 4S Competition
Samsung's original unveiling date was to coincide with the worldwide launch of the iPhone 4S. The device had already broken Apple's previous sales records, boasting 1 million pre-orders in its opening 24 hours before scaling up to break the 3 million mark by the end of its first week.
As well as its next smartphone, Samsung has also attempted to break the iPhone 4S' current hold on the market through a series of legal actions against Apple. On Monday Samsung confirmed it had mounted fresh actions seeking to block the iPhone 4S sales in Japan and Australia.
The new actions immediately follow similar motions made by Samsung in France and Italy. Like its previous claims, the complaints alleged Apple's products infringed on a number of patents owned by Samsung.
At the time this article was written Samsung had not responded to requests for comment regarding Wednesday's event.