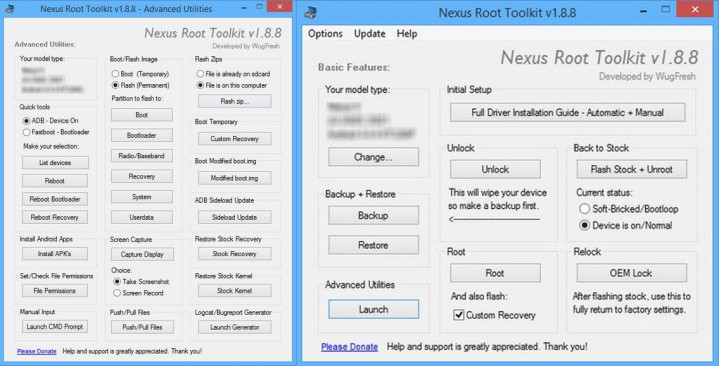 Recognised XDA developer WugFresh has released an update for his "Nexus Root Toolkit".
With version 1.8.8, the toolkit brings together all the files for unlocking and rooting the Nexus devices in a few clicks. This programme can be used to restore stock firmware and re-clock the device.
You can back up all important data, flash zips, set file permission, push and pull files, install apps, generate logcats/bugreports and do much more using the latest version of the toolkit.
With the file association options, the toolkit allows users to perform tasks like flashing zips, apps, restoring Android files, flashing and booting img files.
Additionally, it includes a full featured interface for automating tasks in TWRP, enhanced restore features, an in-built auto-updater/notification system, any build mode, advanced restore features, NRT-Live Log for viewing the adb/fastboot cmds, quick tool utilities and tools for taking screenshots as well as screen recordings. Head over to source thread to know more about WagFresh's Nexus toolkit.
The Nexus Root Toolkit v1.8.8 supports the latest Android builds and Nexus devices including Nexus 5 with KitKat support for all the new upgrades. The programme can auto-detect your Nexus device and build.
Supported Nexus devices
Galaxy Nexus: GSM Models (both yakju and non-yakju builds)
Galaxy Nexus: CDMA/LTE Verizon Models
Galaxy Nexus: CDMA/LTE Sprint Models
Nexus S: Worldwide, i9020t and i9023 Models
Nexus S: 850MHz, i9020a Models
Nexus S: Korea, m200 Models
Nexus S 4G: d720 Models
Nexus 7: Asus Tablet
Nexus 7 3G: Asus Tablet
Nexus 7 v2 (2013): Asus Tablet
Nexus 7 v2 (2013) LTE: Asus Tablet
Nexus 10: Samsung Tablet
Nexus 4: LG Phone
Nexus 5: LG Phone
Chagelog for v1.8.8
Revisions to perm-recovery-signed.zip to ensure it does not interfere with root access if flashed after the SuperSU.zip
Code fixes to advanced utilities > 'push files' script.
How to install
Select the correct device and build
Configure your Nexus drivers using the driver guide
Backup your important data
Unlock your device
Root your device
Done
Head over here for a complete changelog for all the versions. Try out the download link below if you wish to explore your Nexus device using the Nexus Root Toolkit.
Nexus Root Toolkit v1.8.8 [Alternate link]