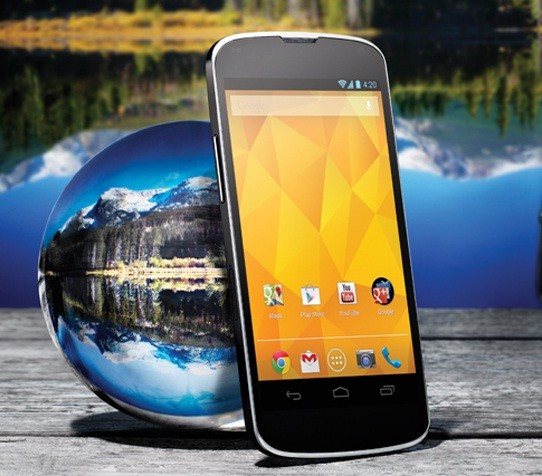 The Google Nexus 4 has sold remarkably well since its launch in early November. The device sold out shortly after launch and stocks returned to the Play Store only in early December. The Nexus 4 has now sold out again in Germany and the UK.
"The phone had proven extremely popular, and as such retailers have been met with huge demand. We are working closely with Google to ensure that those who wish to purchase a handset are able to do so," Andy Coughlin, the head of the mobile division for LG's UK arm, explained.
Coughlin also said supply of Nexus 4 units to the Play Store depended on forecasts made by partners/customers, hinting that the internet search giant may have underestimated demand.The 8GB version of the phone sells for £239 (when available) at the UK Play Store.
The good news for potential buyers is that the 16GB model is available on the Play Store, priced at £279. The bad news is shipping time is five to six weeks, for both UK and German customers. And for those who prefer the 8GB model, a number of retailers and websites, at the time of writing, do still have stock.
Amazon UK
The SIM-free 8GB model of the Nexus 4 (black) is available (only three left) for £589; the unlocked model is £9 more expensive. The 16GB model is also available.
Carphone Warehouse
The 16GB SIM-free model costs £389.95 and is available on contracts with O2, Orange, T-Mobile, Virgin and Vodafone, among others.
O2
The Nexus 4 is available with two contract periods - 18 months and 24 months - with monthly costs ranging from £26 to £61, against initial payments from £59.99 to £299.99. And as a result of an exclusive deal with manufacturers LG, O2 is also offering the 16GB model for £399.99 on a Pay & Go deal.
As per terms of the deal with LG, O2 retained rights to be the only UK operator selling the Nexus 4 for the first month; the deal expires on 13 December.
Future Deals
Clove UK
Clove UK has yet to confirm availability and price details for the Nexus 4 but its product pages list both 8GB and 16GB models.
Three
As with Clove, there is no official word on availability and pricing from Three but this report indicates a £35 per month (not including an additional £29.99 per month) plan.