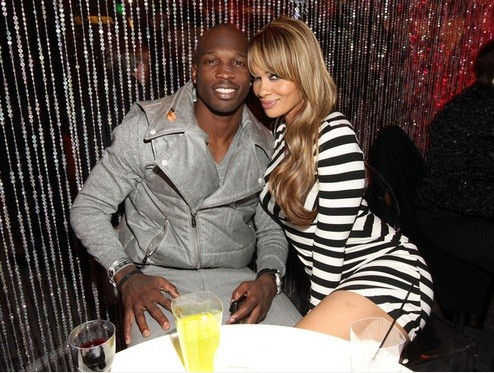 NFL star Chad Ochocinco has married reality star Evelyn Lozada in a ceremony in Miami.
The couple, who have been dating for two years, exchanged vows in front of family and friends in a 4 July celebration.
Cameras were on hand to film the nuptials for the upcoming VH1 reality show, Ev and Ocho.
In what was believed to be a world first, the 34-year-old Miami Dolphins player kept his fans up to date with the wedding proceedings by live tweeting before, during and after the ceremony.
According to celebrity site TMZ.com, there were doubts that the pair would make it down the aisle after Lozada almost called off the wedding earlier this year.
The Basketball Wives star was said to gave suspected that the former Dancing with the Stars contestant was cheating on her.
Ahead of his big moment the nervous groom shared his anxieties with his 3.5 million followers.
He tweeted: "Live tweeting from my wedding ... should be a first I'm assuming, music is playing, can't see my guests right now but they're here.
"I don't recall sending the butterflies in my stomach an invite ... and why am I shaking like I'm in Alaska.
"What if @EvelynLozada is a runaway bride when I get out there and I'm stuck looking good all by myself ... did I mention looking good?"
Lozada was previously engaged to NBA star Antoine Walker.