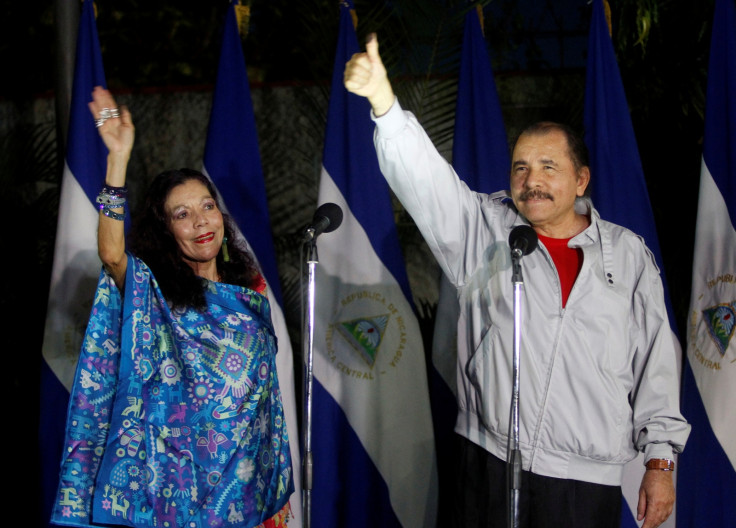 Nicaraguan President Daniel Ortega is reported to have taken a massive lead on Sunday's (6 November) election, putting him on course to retain his post for the third consecutive time. Early counting shows he has secured more than 70% of the vote.
The former Marxist guerrilla leader has faced criticism for trying to install an autocratic family rule but it has reportedly been overshadowed by his social programmes and the country's steady economic growth.
Ortega garnered 71.3% of votes, with ballots in 21.3% of polling stations counted, the country's electoral board said. His main opponent, Maximino Rodriguez from the centre-right Liberal Constitutionalist Party (PLC), was a distant second having gained 16.4% of votes, Reuters reported.
Opinion polls had shown that Ortega and his running-mate, wife Rosario Murillo, had the support of nearly 70% of Nicaraguans. He is said to have got the strong backing of voters for pulling the country out of poverty since he took office in 2007. Nicaragua was one of the poorest countries in the Central Americas.
Despite not enough foreign investment, the nation's economy is reported to have grown at double the Latin American average.
"This is a vote for peace, for stability, for the security of Nicaraguan families," the BBC quoted Ortega as saying. "Some say that we don't have proper elections here, because we're not insulting each other, throwing messages of hate, banging the drums of death."
The president, from the Sandinista National Liberation Front, does not have any obvious challenger, although five others are running for the election. They are thought to be minor figures who do not pose a challenge for Ortega.
Ortega's Sandinista movement toppled dictator Anastasio Somoza in 1979 to lead the country during the 1980s — a period that saw Nicaragua fight a civil war against US-backed Contra rebels. The war killed around 30,000 people and resulted in economic turmoil. He went on to lose the 1990 election.
Ortega returned to power to become the president of Nicaragua in the 2006 election, but his opponents have accused him of trying to set up a "family dictatorship" by appointing only his family members in key posts.
Some opposition parties urged a boycott of the election calling it a "farce". They also view Ortega's wife's vice presidential bid as further evidence of it.
"Ortega gets his way and he doesn't care if he violates the rights of others," Reuters cited Ortega's opponent Rodriguez as saying.
"Supposedly he fought against the Somoza dictatorship, and the Sandinistas themselves regard Ortega as worse than Somoza," he added, arguing Ortega was trying to retain power.
Ortego's wife could become president herself if he bows out in the next election, reports say. There are also rumours doing the rounds about the health issues he faces.
International observers were not allowed to monitor the vote.