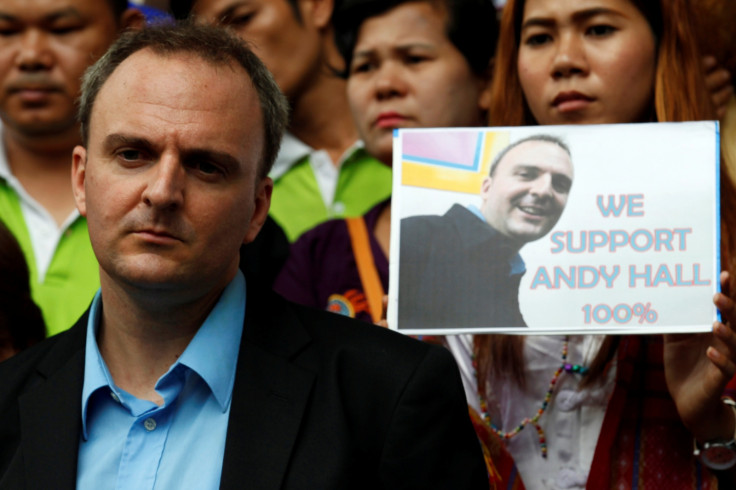 British labour rights activist Andy Hall has left Thailand early on 7 November, citing fear for his safety amidst legal battles with various companies that he has gone head to head with. Hall has been working for the rights of immigrant workers in the country for the past 11 years but said that he was being continuously harassed by "irrational, vindictive and aggressive" enterprises.
Hall has been slapped with a number of lawsuits from the firms he accused of violating labour laws.
"The situation is not good right now," Hall told the Thomson Reuters Foundation on 6 November before boarding his flight.
"It's rapidly deteriorating. It doesn't feel safe. There are people who are intent on wearing me down. I've worked with so many companies in Thailand, and it's rare to have a company that is so irrational and so vindictive. It's enough to wear anyone down."
He was given a suspended three-year jail term and fined 150,000 baht ($4,300, £3,455) in September for criminally defaming Natural Fruit Company, a pineapple wholesaler that supplies the European Union. However, on 3 November, Thailand's Supreme Court dismissed charges against him after an appeal.
Hall had previously asked the court to bring forward the reading of the verdict which was originally supposed to take place on 25 November.
"It's time for the good companies, the good actors, to speak to these people. I work with a lot of good companies... I fear for my safety because of the unstable situation. I don't want to be here another three weeks," he said prior to his departure.
"My work is not productive at the moment. It's like walking on broken glass. I don't feel secure to be working here. Why would you want to put yourself in this situation where you're just being worn down and stuck in the court system?"
In a statement he posted on Facebook, the activist went on to mention how a chicken farmer has also planned to pursue a defamation case after Hall and the Migrant Worker Rights Network exposed alleged labour violations on one of the farms and supported the chicken farm workers to sue the owner over allegations of forced overtime, unlawful salary deductions, confiscation of their passports and limited freedom of movement. They demanded $1.3m in compensation and civil damages.
The farmer ended up losing his EU contracts was forced to shut down his 1.6 million-chicken operation.
"The reason I'm leaving is they said in court they're going to file a new criminal case against me, because it comes with all the restrictions – I'm not willing to be subjected to that criminal process again, and I'm also leaving because of the security issues," Hall mentioned in his post before boarding a Paris-bound flight from Bangkok. He has not specified when he will be returning to the country.