A Vietnamese woman accused of murdering the half-brother of North Korean leader Kim Jong-un has received a visit from her janitor father while awaiting trial in Malaysia.
Doan Thi Huong, 23, is being held in Kajang Prison, Selangor after allegedly murdering Kim Jong-nam on behalf of the North Korean state at Kuala Lumpur International Airport on 13 February.
It is claimed that she and fellow suspect – Indonesian Siti Aishah, 25 – poisoned the estranged member of North Korea's dynasty with a toxic nerve agent. If found guilty, they could face the death penalty.
On Wednesday (12 April) Huong's father and cousin visited her in prison after a Vietnam-based NGO paid for their travel expenses.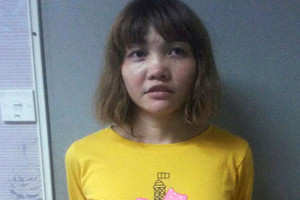 The suspects are expected to attend a pretrial hearing at a magistrates court on 13 April. Huong reportedly told her relatives to stay away from the court because she fears for their safety.
"After this morning's meeting, Huong asked her father to remain at the embassy. So, he might not go to court," said her cousin Tran Huy Hoang, as reported in thestar (Malaysia).
"She has asked the Vietnam embassy to prepare a place here for him to stay and keep him safe until he returns home," he added. The men are expected to leave Malaysia on Saturday.
Huong and Aishah wore bulletproof vests when they attended court yesterday for a brief hearing.
Aishah's lawyer Gooi Soon Seng is disappointed that three North Koreans arrested in Malaysia were allowed to return to Pyonyang as part of a swap deal with Malaysians imprisoned by the rogue state.
"We've lost an opportunity to cross-examine them... There should be no trial by ambush," he said.
Huong's cousin told reporters that the family were "shocked" by her arrest and they were adamant that she is a "nice young girl". "And they want the whole of Malaysia to know that," said Seng.