The Liberal Democrats can pull off an "astonishing win" and dethrone Zac Goldsmith in the Richmond Park and North Kingston by-election on Thursday (1 December), Nick Clegg has claimed.
The former deputy prime minister told IBTimes UK that Liberal Democrat candidate Sarah Olney will beat Eurosceptic Goldsmith because of fears of a "hard Brexit".
"I think we can pull off an astonishing win... our latest canvassing data shows that it really is neck-and-neck," Clegg said.
"The reason why we have made up so much ground against Goldsmith is the fact that people locally don't like the fact that he's such a hard-line Brexiteer.
"They want to send a signal to Theresa May and the Conservative government that they don't want this country pushed towards an economically self-harming Brexit."
But despite the Liberal Democrat MP's optimism, Goldsmith is defending a majority of more than 23,000 votes from the 2015 general election.
However, Clegg and Olney are hoping their party's success in the Witney and West Oxfordshire by-election in October, which saw the Liberal Democrats secure 30% of the vote and slash the Conservatives' majority by around 20,000, can be replicated on Thursday.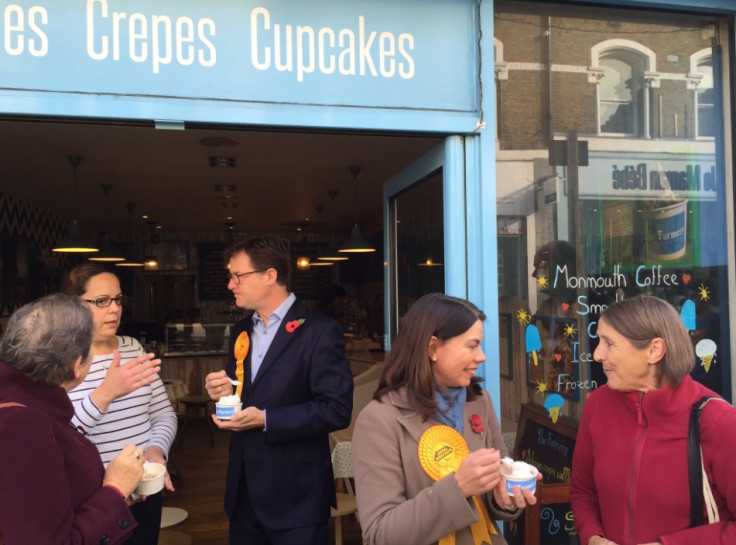 The party has campaigned heavily on a pro-EU platform, with Olney promising to vote down Article 50, the official mechanism to split from the EU, if she is elected to the House of Commons.
The Liberal Democrats also note that 69% of Richmond-upon-Thames residents voted Remain in the EU referendum. The issue has also attracted Sir Bob Geldof to the seat on the final full day of campaigning.
The pro-EU rock star is expected to throw his support behind Olney because of his "disappointment" in his friend Goldsmith over his Brexit stance, a source close to the campaign told IBTimes UK.
But the by-election was triggered because of a separate issue – the government's decision to back a third runway at Heathrow Airport.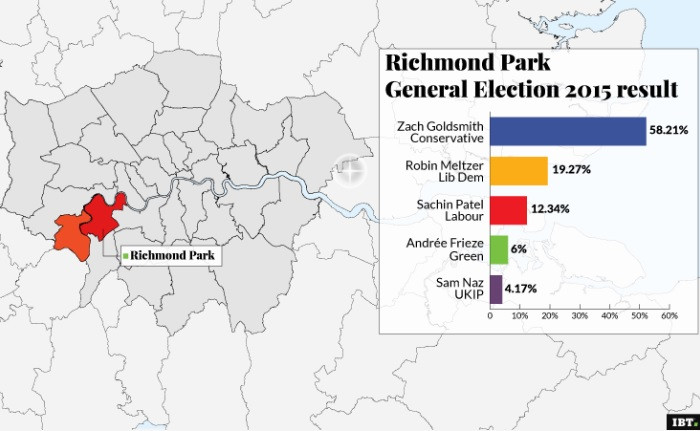 Goldsmith quit the Commons in protest over the move and he is standing as an independent in the election, while the Greens, Ukip and the Conservatives are not contesting the seat.
He was involved in a "minor car accident" on Tuesday while canvassing, but a spokesman for Goldsmith told IBTimes UK he was campaigning on Wednesday.
Labour are also fighting the by-election, with transport expert and author Christian Wolmar selected as the party's candidate.