Nick Clegg must expel Lord Rennard from the Liberal Democrats over accusations of sexual harassment, the peer's alleged victims have demanded.
The call from three of the four women who claim Rennard, 53, acted inappropriately towards them, piles more woe on Clegg at the end of a week from hell for the deputy prime minister.
Clegg has been told to act on the sex claims, after facing dismal election results and an aborted leadership coup.
Alleged victim Susan Gaszczak called upon the Lib Dem leadership to permanently expel Rennard, who is currently suspended.
She insisted "Lord Rennard, it's time to go" and called for the party to "draw a line" under the scandal.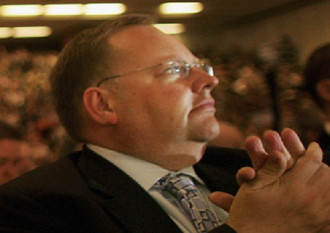 Another alleged victim, Bridget Harris, echoed calls for tough action by the party's leadership.
"The real question here is 'should the Lib Dems accept him back on the benches in the House of Lords?' And I don't think the answer to that is yes," she said.
"I think that it would be untenable for Lord Rennard to stay as a spokesman for the Lib Dems on any matter at all. So I think he should be kicked out of the party."
Demands for the Lib Dems to axe Rennard came soon after he apologised for intruding upon the 'personal space' of some women.
He released a statement which read: "Lord Rennard wishes to make it absolutely clear that it was never his intention to cause distress or concern to them by anything that he ever said or did. He also hopes that they will accept that the events of the last 14 months have been a most unhappy experience for him, his family and friends and for the party."
Clegg has previously called on Rennard to say sorry for his actions, following a report into the claims by a team led by lawyer Alistair Webster QC. A party spokesman yesterday said the process was still "ongoing".
Lib Dem grandee Lord Steel – one of the founders of the party – has said Rennard should be allowed back in to retake his place in the Upper Chamber.
Calling the sex claims storm "a very unfortunate episode", Steel said: "I'm glad it is now over and we can get back to normal. I think he should come back. He has made an apology – he thinks his conduct was less than it should have been."