Arsenal manager Arsene Wenger says striker Nicklas Bendtner still has a future at the club despite being sent out on loan to Juventus.
The Danish striker has joined on a temporary deal for the rest of the season with a view to a permanent move to the Serie A giants at the end of the campaign.
After a difficult career at the Emirates Stadium, which had included loan spells at Birmingham City and Sunderland, Bendtner's second consecutive season away from the club was expected to draw an end to his Premier League career.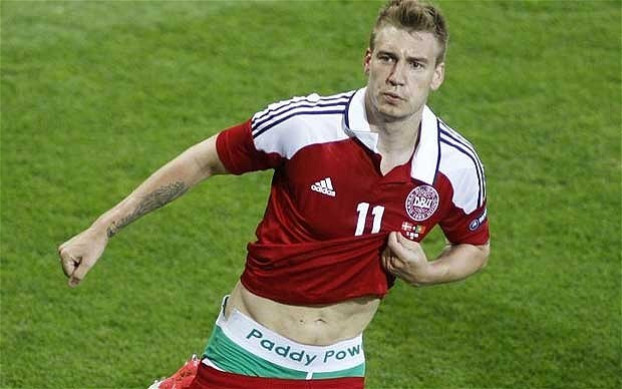 But Wenger told Sky Sports: "Bendtner is a top player, he is an international striker for Denmark and he also scored two goals against Portugal [at Euro 2012].
"I think that by playing for Juventus, he will improve and then he will come back to Arsenal. Juventus will enhance him for us."
"It is not for nothing that I loaned him to Juventus. He is a talented player. There he will grow and then return to my team," Wenger added to Italian media.
"I am convinced that a team like Juventus, in a very difficult league, especially for strikers, he can make the final leap in quality.
"Don't forget, he is a boy of 24 years. The right age to prove who he is. He is not short of talent - otherwise I would not have bought him at just 16-years-old.'
"We believe in him and that is why we only gave him to Juventus on loan. I think he can resolve his problems with us and prove himself.
"We still believe in him."
Bendtner has scored 39 goals for Arsenal since making his debut in 2007, but with the likes of Emmenual Adebayor, Robin van Persie and Eduardo to compete with for places, the Denmark striker has found it tough cementing a place in Wenger's starting XI.
Van Persie's departure could have opened the door for Bendtner to mount a challenge for the first team, but despite returning from his loan spell at Sunderland, his switch to Juventus has again thrown his Arsenal career into doubt.