It was an evening for grisly ghouls and the living dead, as the judges and the contestants got into the spirit of Halloween for Fright Night on the X Factor, with some 'spook-tacular' performances .
The Halloween themed episode is traditionally a highlight in the series and this year neither the acts nor the production team disappointed, with the singers transformed into zombies, creepy dolls and scary vampires as they performed their haunting tracks.
Nicole Scherzinger still managed to look ethereal as she brought out her inner goth and Louis Walsh emerged soaked in fake blood in a surgeon's costume.
Even Simon Cowell got in on the act, revealing his vampire fangs to be voted, unsurprisingly, the most scary judge.
And while there were some tricks, there were a lot more treats, as this week almost all the acts won praise for their performances with Sharon Osborne commenting: "I don't know what it is about this week, but its brought out the best in everyone."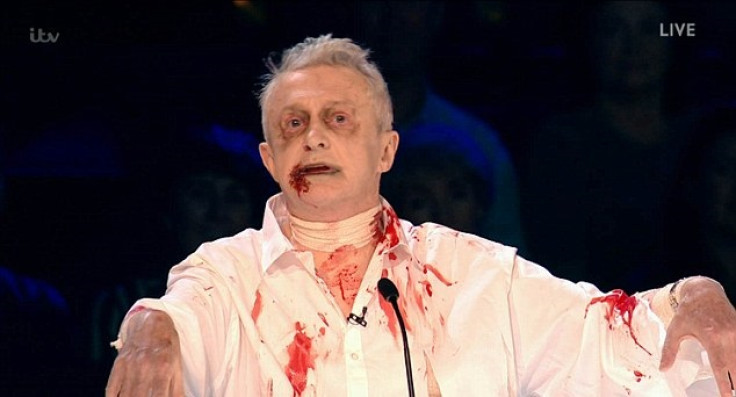 Opening the show Gifty Louise captivated the audience with her 1920's-style jazz performance of Fifth Harmony's I'm In Love With A Monster.
While Louis Walsh wasn't sure about the song choice, Sharon Osbourne praised the singer for her consistent performances. "Gifty you are so sassy, so fantastic. I've been watching you progress and you never put a step wrong. I don't know the song, but I know now I love the song," she said.
Nicole added: "I love the tone. I love the style. You've grown so much, become so much more confident on that stage."
Matt Terry wowed the judges yet again, with a stripped-back performance of Nina Simone's I Put A Spell On You, that showed off his spiraling vocals.
Louis described him as 'a class act' while Simon said: "Matt for me this is your best performance in the whole competition."
It wouldn't be Fright Night without a rendition of Michael Jackson's iconic Thriller. Five After Midnight, paid homage to the legendary star, putting their own mark on the timeless track as they performed as grisly ghouls.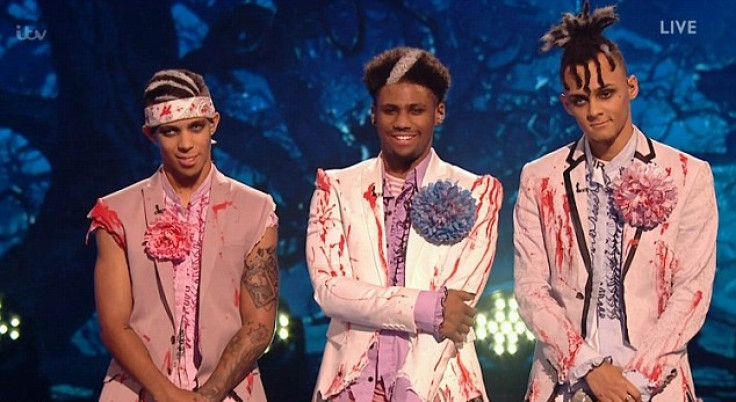 Simon, who last week had been disappointed with the boys performance, described their Thriller as "fang-tastic". "It was fun, I love the choreography. A million times better than last week," he said.
"That's one of the best things I've seen on X Factor. You are stars and must make the final," Louis added.
Of course, the moment everyone was waiting for was the arrival of Honey G, who stepped up her act as she performed the title song from Men In Black.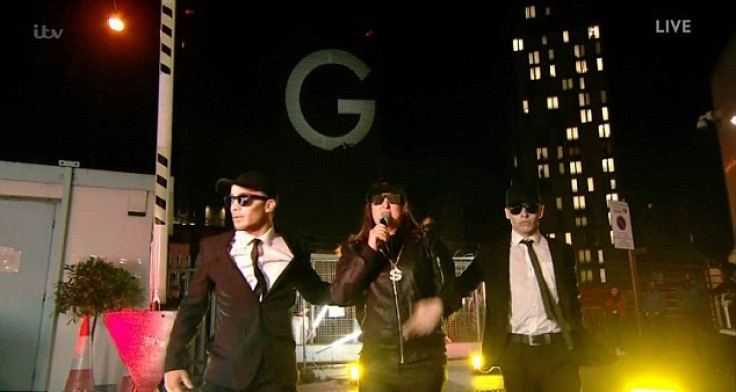 Dressing in the MIB''s customary black outfit with her trademark cap and shades, the performance was well-suited to the rapper from North Weezy.
"That was scary, but in a really good way," said Nicole. "You started with everyone hating you, probably including me," said Simon. "That was like the Honey G concert."
Sharon who has championed Honey G said that she has become the nation's obsession.
"Honey you make people happy you make people smile. You are scary because everybody's gonna' want you in the final."
Joined by a troupe of zombie dancers, Ryan Lawrie opted for the Backstreet Boys classic Everybody, with the judges hailing his transformation from last week's lacklustre performance.
Quirky singer Saara Aalto was in her element for her spell-binding performance of Lady Gaga's Bad romance as she played on a coffin piano.
"Now you've become someone we look forward to seeing," said Simon. "Your voice is dynamite."
The performance of the night however, belonged to Emily Middlemas, who broke down during her haunting rendition of Radiohead's Creep.
Dressed as a cracked porcelain doll, Emily captured the raw emotion behind the lyrics leaving the audience captivated.
"That was magnificent. You sang with such emotion, with such heart," said Sharon. "That was the best performance tonight," added Simon.
While there were no vocal horrors, Nicole got the fright of her life when Xtra Factor host Rylan Clark-Neal crept up behind her dressed as the Grim Reaper, prompting the former Pussy Cat Doll singer to jump out of her skin and scream for her life.
And while viewers reveled in Nicole's terror on Twitter, the debate over whether Honey G is a musical horror or a rap sensation continues.